Unleash the Beast: Why the Soundstream Reserve HDHU.14Si is the Ultimate Upgrade for Your Harley Davidson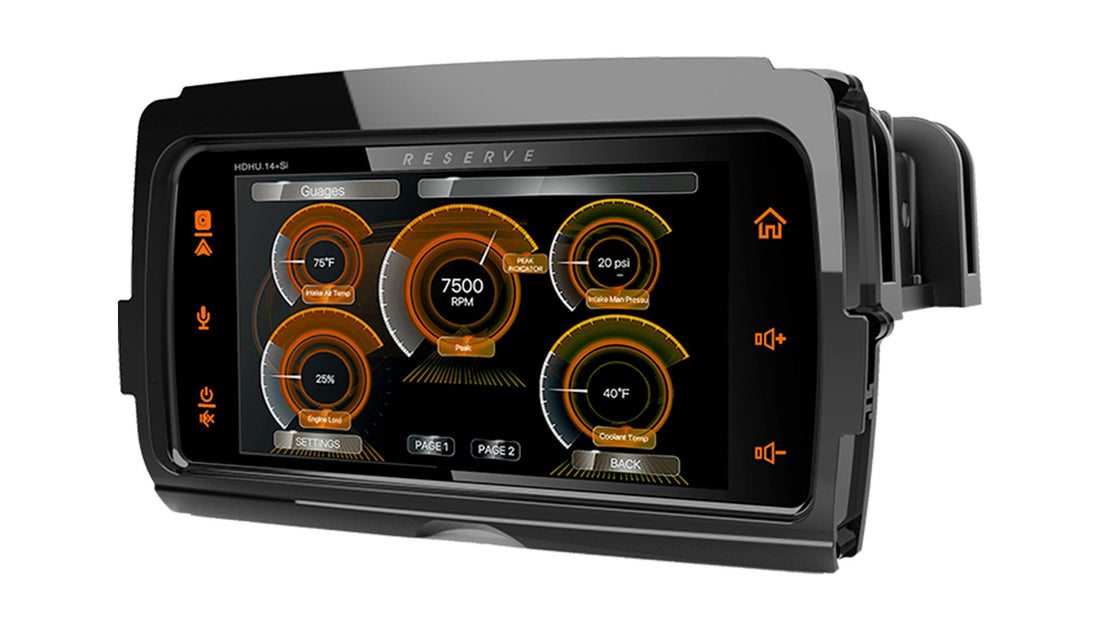 Unleash your Harley's Inner Beast
Ever thought about giving your Harley's audio system a serious upgrade? Well, buckle up, because we're about to introduce you to the Soundstream Reserve HDHU.14Si. This bad boy is not just a radio; it's a game-changer.
Crank Up the Volume: The Soundstream Reserve HDHU.14Si is a Beast!
Let's get straight to the point. The Soundstream Reserve HDHU.14Si is like the Hulk of radios. It's powerful, it's mean, and it's ready to transform your ride into a rolling concert.
Superior Sound Quality
First things first, the sound quality. This beast delivers a whopping 10-15% gain in sound. That's like going from a kitten's purr to a lion's roar! Plus, with a full 13 bands of equalizer adjustment, you can fine-tune your sound preferences until your ears are dancing with joy.
Advanced Features & Functionalities
The Soundstream Reserve HDHU.14Si is not just about the sound; it's packed with features that will make your ride safer and more enjoyable. It seamlessly integrates with SiriusXM, giving you access to a universe of music, news, and entertainment. Plus, it has a camera input feature for added safety when backing up, parking, or checking those pesky blind spots.
And let's not forget about the iDatalink Maestro RR capability. This nifty feature enhances your motorcycle info, thumb controls, and engine diagnostics. Plus, it gives you on-screen notifications for conditions like low oil pressure or low fuel. It's like having a personal assistant right there on your bike!
Cutting-Edge Technology Integration
But wait, there's more! The Soundstream Reserve HDHU.14Si integrates seamlessly with Apple CarPlay and Android Auto, providing you with an intuitive multimedia experience. Plus, it has a cursor control feature that makes navigation a breeze.
So, are you ready to give your Harley the upgrade it deserves? Stay tuned for more reasons why the Soundstream Reserve HDHU.14Si is the ultimate choice for your BOOM GT/GTS radio upgrade.
Customization and Aesthetics
Now, let's talk about style. We all know that your Harley isn't just a bike; it's a statement. And the Soundstream Reserve HDHU.14Si is here to amplify that statement. With the ability to have custom background images, you can make your device as unique as you are. Plus, the custom lighting for buttons not only enhances the visual appeal but also ensures better visibility in low-light conditions. Talk about a win-win!
Safety and Maintenance Features
Safety first, right? The Soundstream Reserve HDHU.14Si has got you covered. High-pass filters can be activated to prevent speaker blowouts, ensuring the longevity of your audio system. Plus, it's designed for easy future upgrades, making this device a long-term investment. It's like the gift that keeps on giving!
Value for Money
We know what you're thinking. All these features must come with a hefty price tag, right? Wrong! The Soundstream Reserve HDHU.14Si is priced competitively, especially when considering its rich feature set. Plus, it provides a significant sound quality improvement, especially when paired with sound systems like Boom stage one, Boom stage two, or HD audio by Rockford. So, you're not just getting a radio; you're getting a whole new riding experience.
Ease of Use
No one likes complicated gadgets, and the Soundstream Reserve HDHU.14Si gets that. It's designed for plug-and-play functionality, reducing the need for constant dealer visits or manual adjustments. Just plug it in, and you're good to go. It's as easy as pie!
User Feedback & Recommendations
Don't just take our word for it. The Soundstream Reserve HDHU.14Si has received rave reviews from users, highlighting its superiority over other competitors. It's recognized for its stronger input to amplifiers, producing louder and clearer sound. Now, that's what we call a crowd-pleaser!
Conclusion
So, there you have it, folks! The Soundstream Reserve HDHU.14Si is the ultimate upgrade for your Harley Davidson BOOM GT/GTS radio. It's packed with features, delivers superior sound quality, and offers great value for money. Plus, it's easy to use and has received glowing reviews from users. What more could you ask for?
So, are you ready to take your ride to the next level? Get your Soundstream Reserve HDHU.14Si today and experience the difference for yourself. And remember, at HogLights, we're always here to light up your ride.