Elevate Your Harley Ride: Dive into the Soundstream Revolution!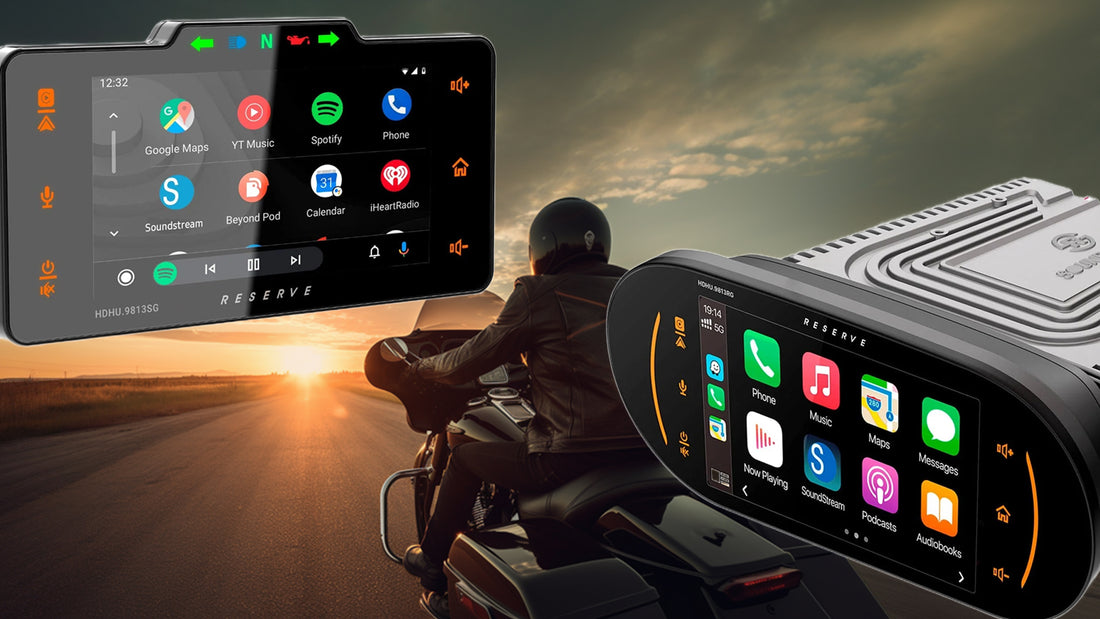 Why Upgrading to Soundstream Reserve HDHU.9813 is a Game-Changer for Harley Riders
Introduction
Motorcycle enthusiasts worldwide recognise the pulsating allure of a Harley Davidson. Its iconic roar and unmatched style have solidified its position in the annals of motorcycling history. Yet, as technology propels forward, even classic beauties like the Harley need to keep pace. Enter the Soundstream Reserve HDHU.9813SG (Street Glide) and HDHU.9813RG (Road Glide) - modern audio solutions tailored for the classic Harley rider. These systems seamlessly bridge the gap between the Harley's timeless appeal and today's cutting-edge technology.
The Need for Modern Audio in Classic Rides
Every Harley rider knows the importance of the journey - the open road, the rhythmic hum of the engine, and the feeling of freedom. But in a world that's becoming increasingly interconnected, there's a growing need to stay plugged in, even while riding. Be it for navigation, staying in touch, or simply setting the mood with the perfect soundtrack, a modern audio system is no longer a luxury; it's a necessity.
Older Harley models, as iconic as they are, often lag in integrating the latest in audio technology. Traditional systems might offer basic functionalities, but they don't provide the convenience and integration that modern riders have come to expect. Whether it's streaming your favourite playlist from Spotify, navigating seamlessly with Apple Maps, or taking calls hands-free, the modern rider demands more from their audio systems. And that's precisely where the Soundstream Reserve HDHU.9813 models step in, offering a harmonious blend of the old and the new.
Diving into Features: What Makes Soundstream Reserve Stand Out
Modern Interface & User Experience: Gone are the days of squinting at tiny screens and fumbling with unresponsive buttons. The Soundstream Reserve HDHU.9813 models have a large, user-friendly screen, making navigation and control a breeze. The enhanced visual display ensures riders can glance and get the necessary information without any unnecessary distractions.
Seamless Connectivity: In today's digital age, connectivity is king. With built-in Apple CarPlay, Android Auto, AM/FM, and Bluetooth functionalities, these models ensure riders stay connected with the world while on the move. Whether it's following turn-by-turn navigation, streaming your favourite tunes, or answering a quick call, Soundstream Reserve makes it effortless.
Wireless Freedom: Tangled cords and jumbled connectors are a thing of the past. The ability to connect wirelessly ensures riders can enjoy their audio experience without the hassles of plugging in, providing a clutter-free and streamlined setup.
Safety First with Backup Camera: Safety and convenience go hand in hand with the Soundstream Reserve's backup camera feature. Why a rear camera input? This feature ensures riders can park and reverse with confidence, providing a clear view of what's behind. No more scratching your extended bags on the gutter.
Built to Last: Durability & Trust
With motorcycles, exposure to the elements is a given. Rain, dust, and the occasional splash are all part of the riding experience. Recognising this, the Soundstream Reserve HDHU.9813 models are engineered for resilience. Their impressive water resistance ensures an unexpected downpour won't dampen the audio experience.
Beyond its robust build, Soundstream Reserve further cements riders' trust with a two-year warranty. This assurance is a testament to the product's quality and the brand's commitment to its user base. Riders can hit the road with the confidence that their audio system is built to endure, come rain or shine.
Aesthetics Meet Functionality
For Harley enthusiasts, the look of their ride is almost as crucial as its performance. The Soundstream Reserve HDHU.9813 models are not just about advanced features; they also bring a touch of modern elegance to any Harley they grace. With a sleek design and intuitive interface, these audio systems elevate the aesthetic appeal of the motorcycle, blending seamlessly with the Harley's classic charm.
One of the standout design elements is how the system integrates with existing indicators like blinkers, oil pressure, and headlights. This ensures that while riders enjoy the latest tech, they don't lose out on any vital information from their bike. The result? A harmonious blend of style and substance enhances the overall riding experience.
Riding into the Future
The open road and a Harley Davidson—a combination that symbolises freedom, adventure, and passion. And in an age where technology is evolving at breakneck speeds, it's only fitting that our beloved Harleys get the best in audio tech. The Soundstream Reserve HDHU.9813SG (Street Glide) and HDHU.9813RG (Road Glide) are more than just audio systems; they represent a bridge between the classic allure of a Harley and the conveniences of the modern age.
With a mix of top-tier features, unmatched durability, and a design that complements the timeless appeal of a Harley, these Soundstream Reserve models are a testament to innovation that respects tradition. For riders looking to elevate their journeys, both in terms of entertainment and functionality, the choice is clear. It's time to embrace the future without letting go of the past.
Intrigued by what the Soundstream Reserve HDHU.9813 models have to offer? Ready to bring a touch of the future to your classic Harley ride? Look no further. Click on the links below to explore these state-of-the-art units and see how they can revolutionise your audio experience on the road:
Soundstream Reserve HDHU.9813SG for Street Glide & Electra Glide Ultra (1998-2013): Immerse yourself in a seamless blend of audio quality and modern tech tailored for your Street Glide or Electra Glide Ultra.
Soundstream Reserve HDHU.9813RG for Road Glide (1998-2013): Dive into an unmatched audio experience crafted specifically for your Road Glide.
Elevate your rides with the fusion of tradition and innovation. Experience the difference today!