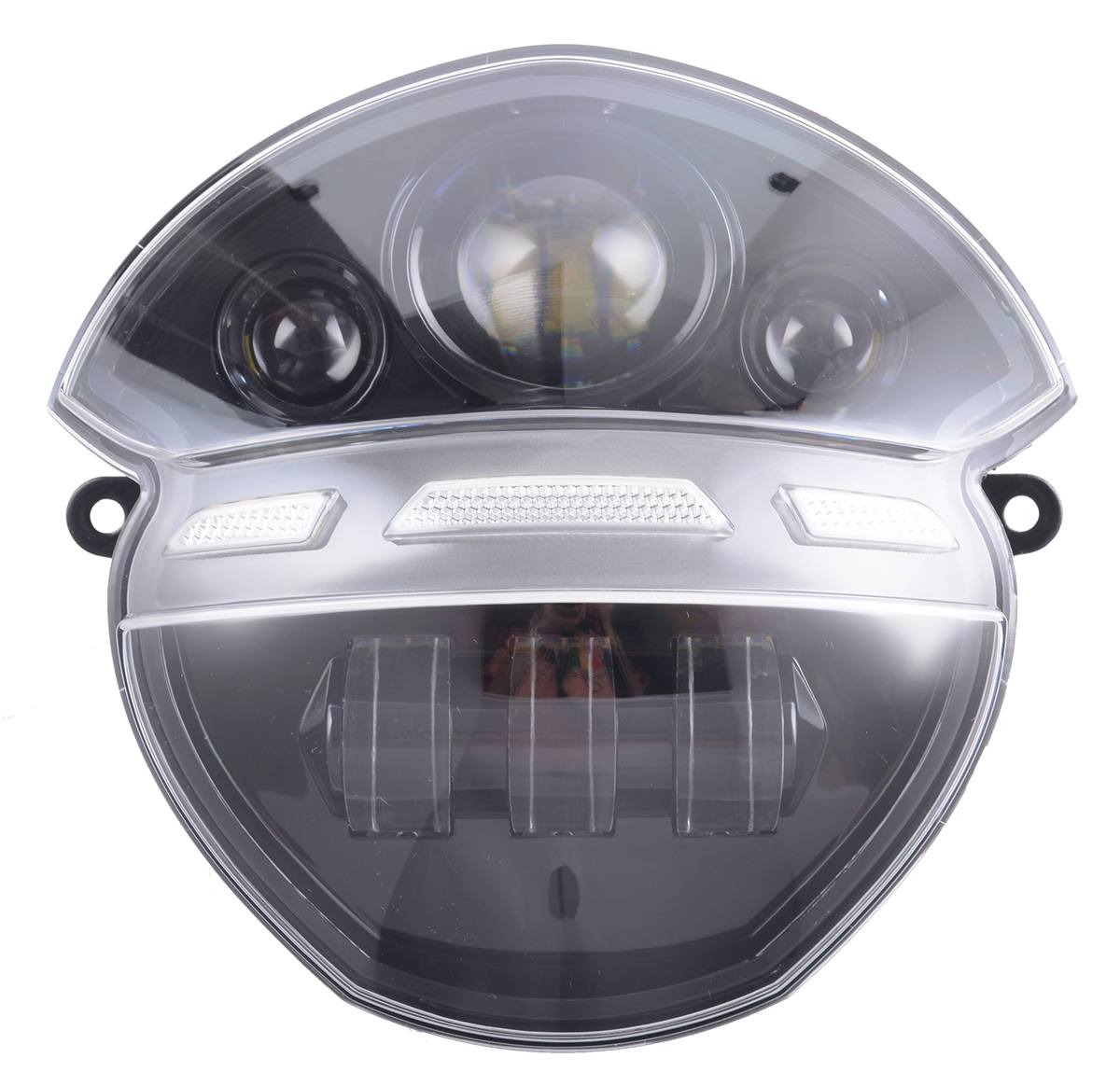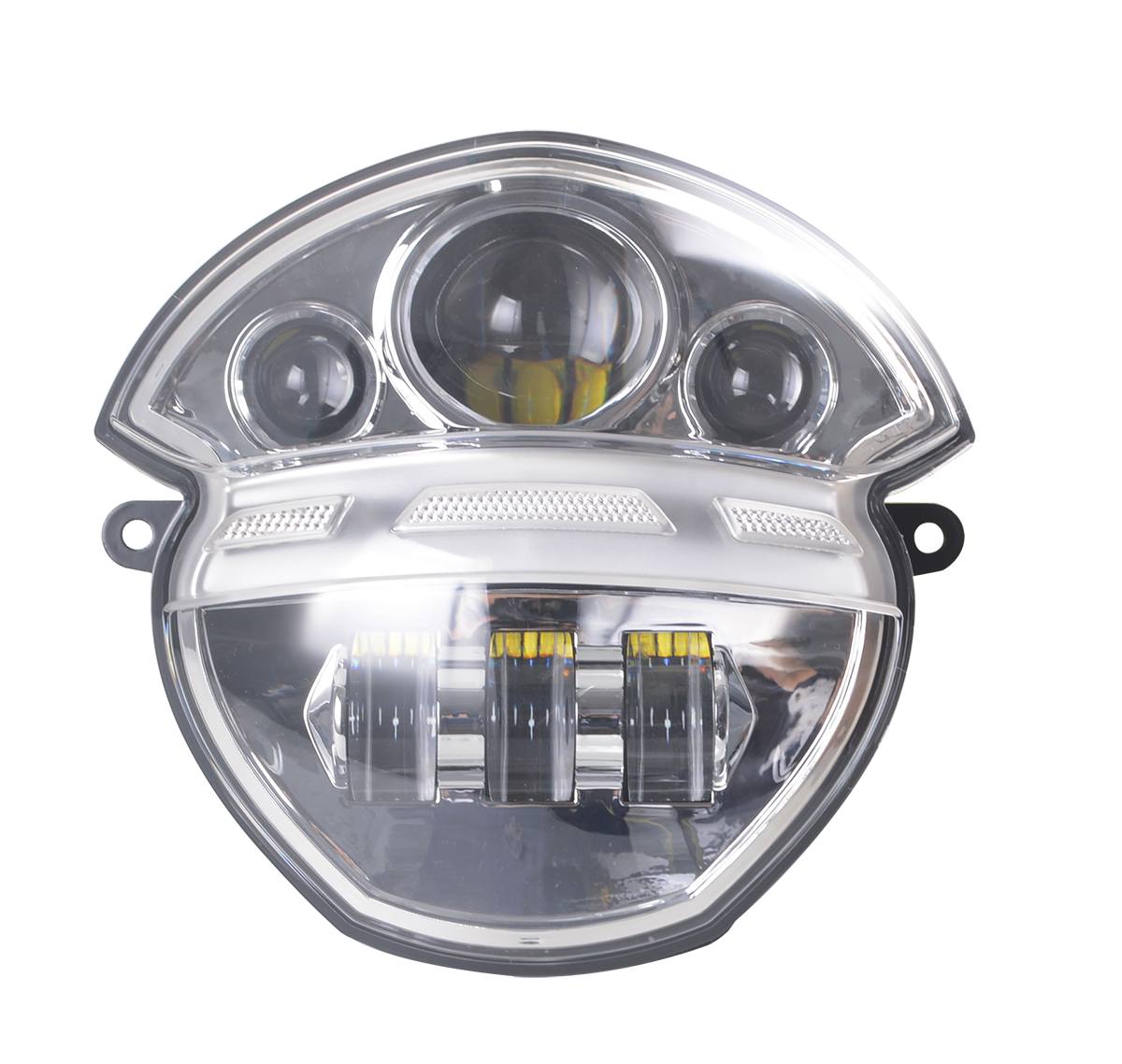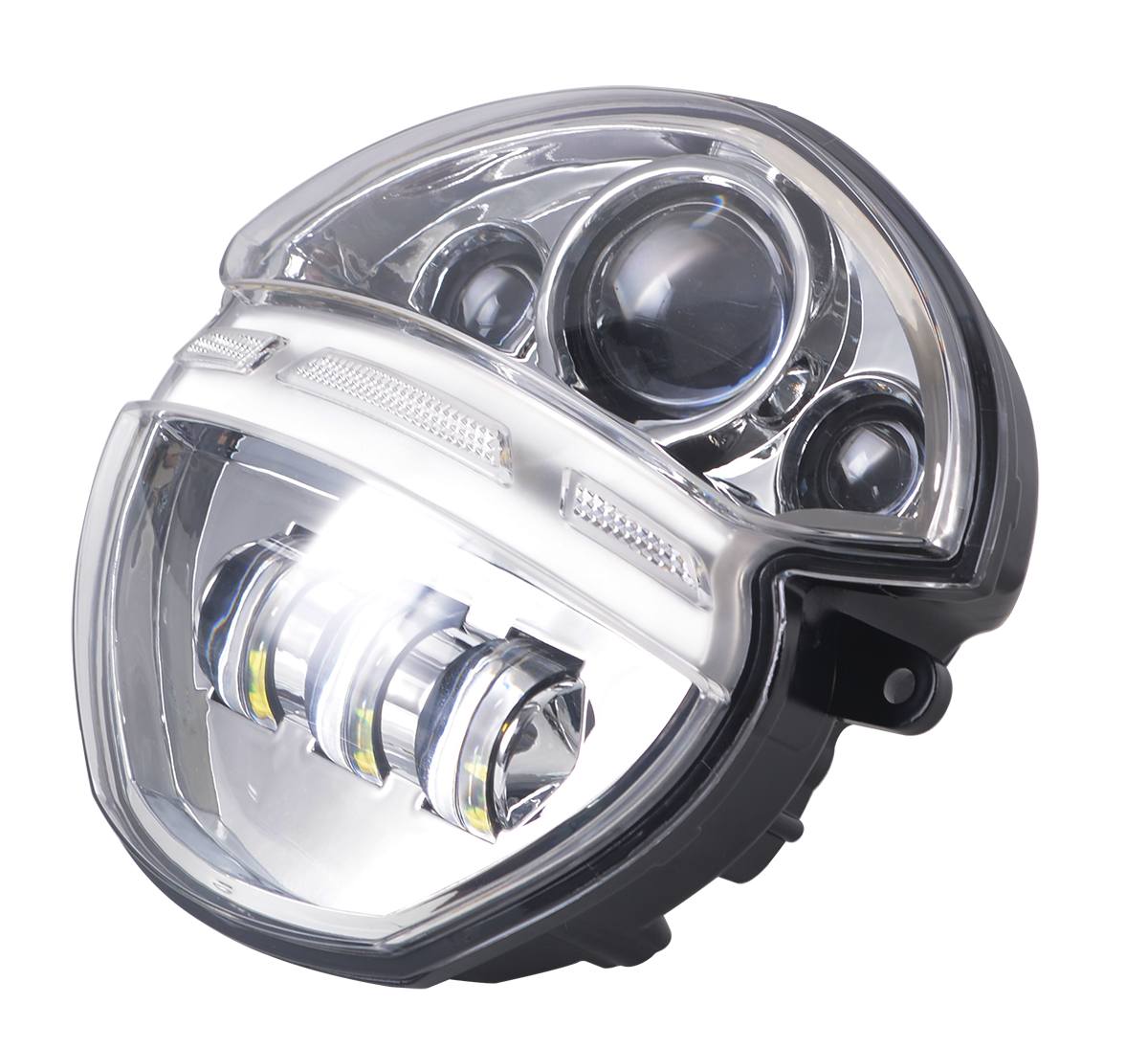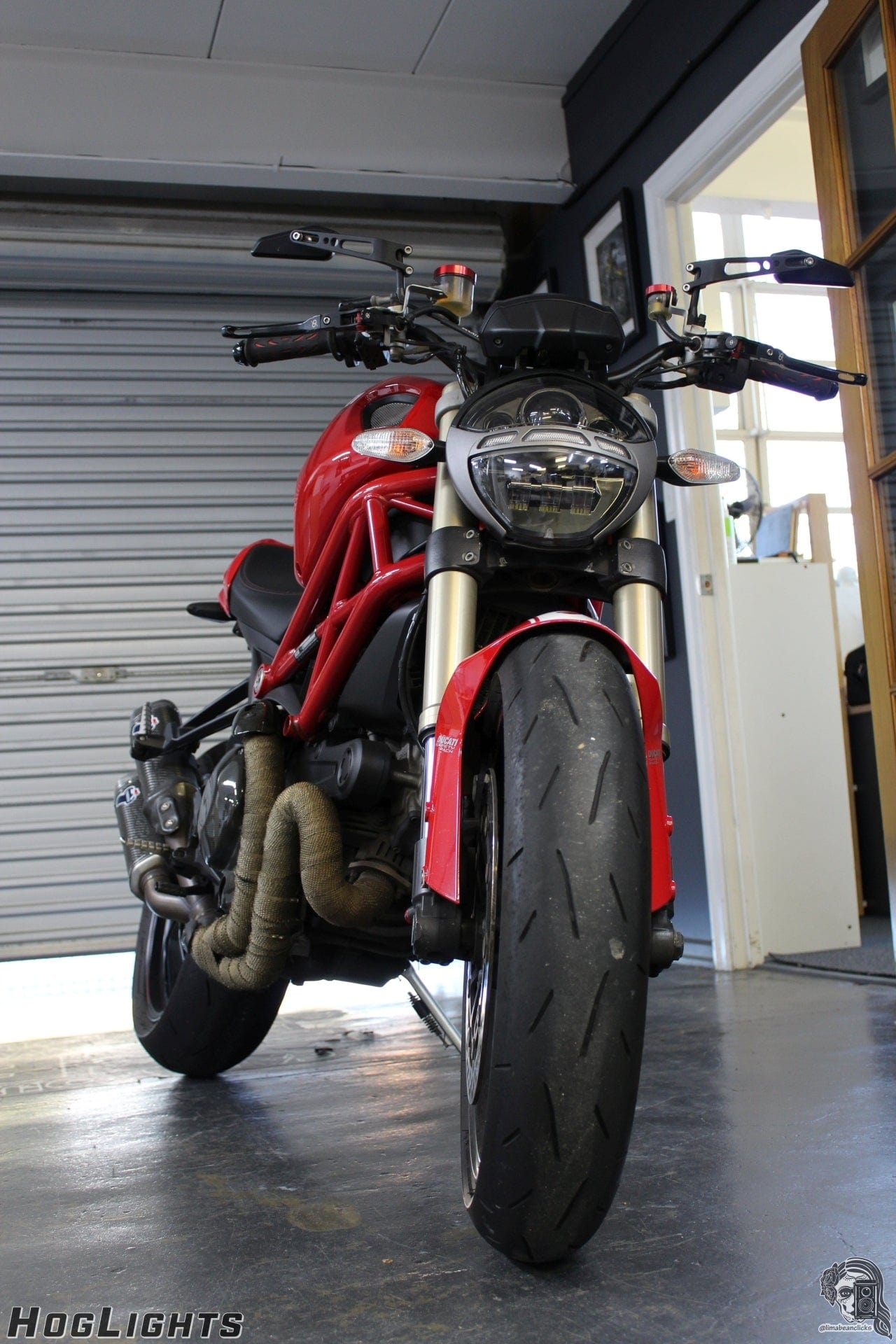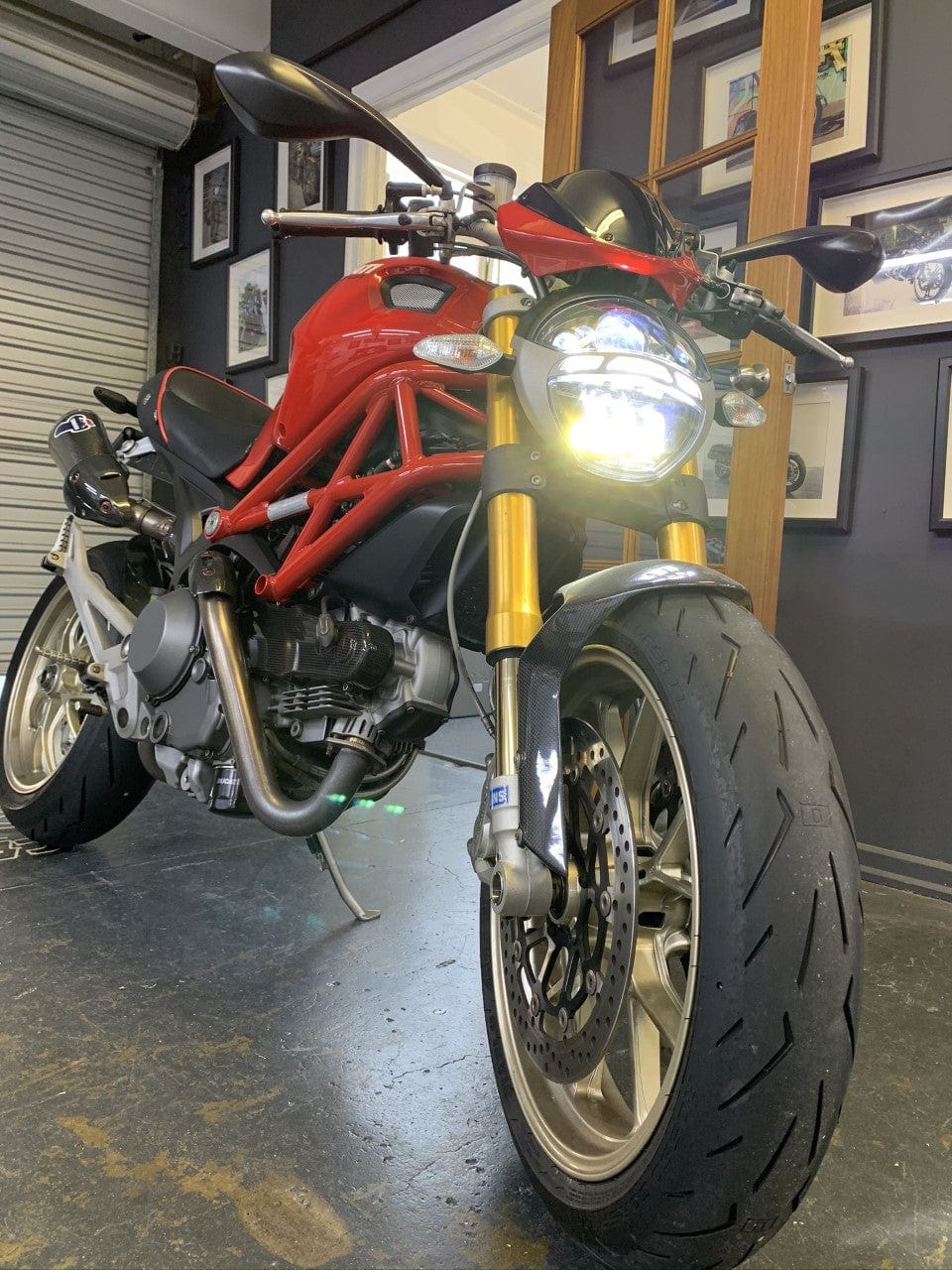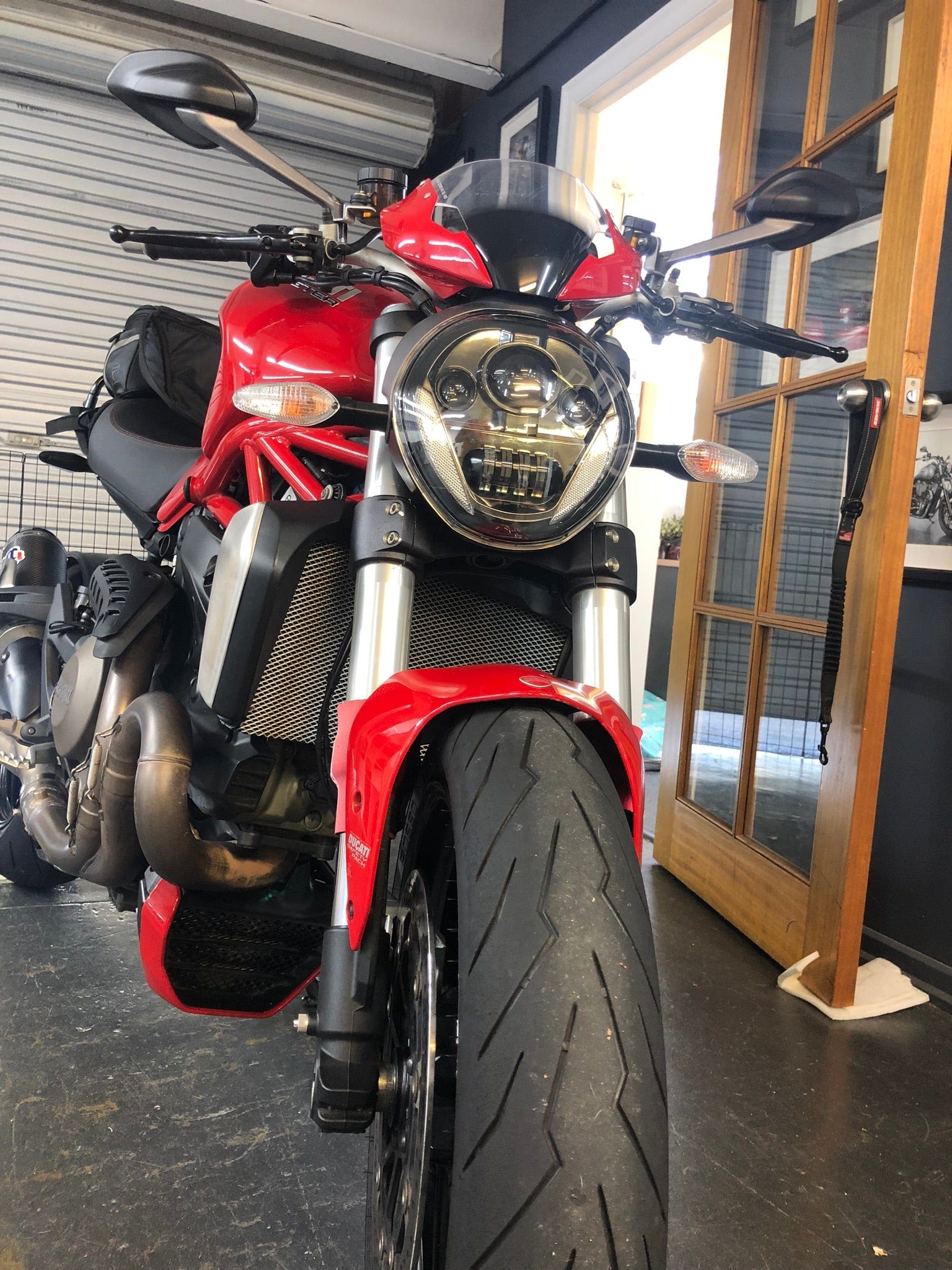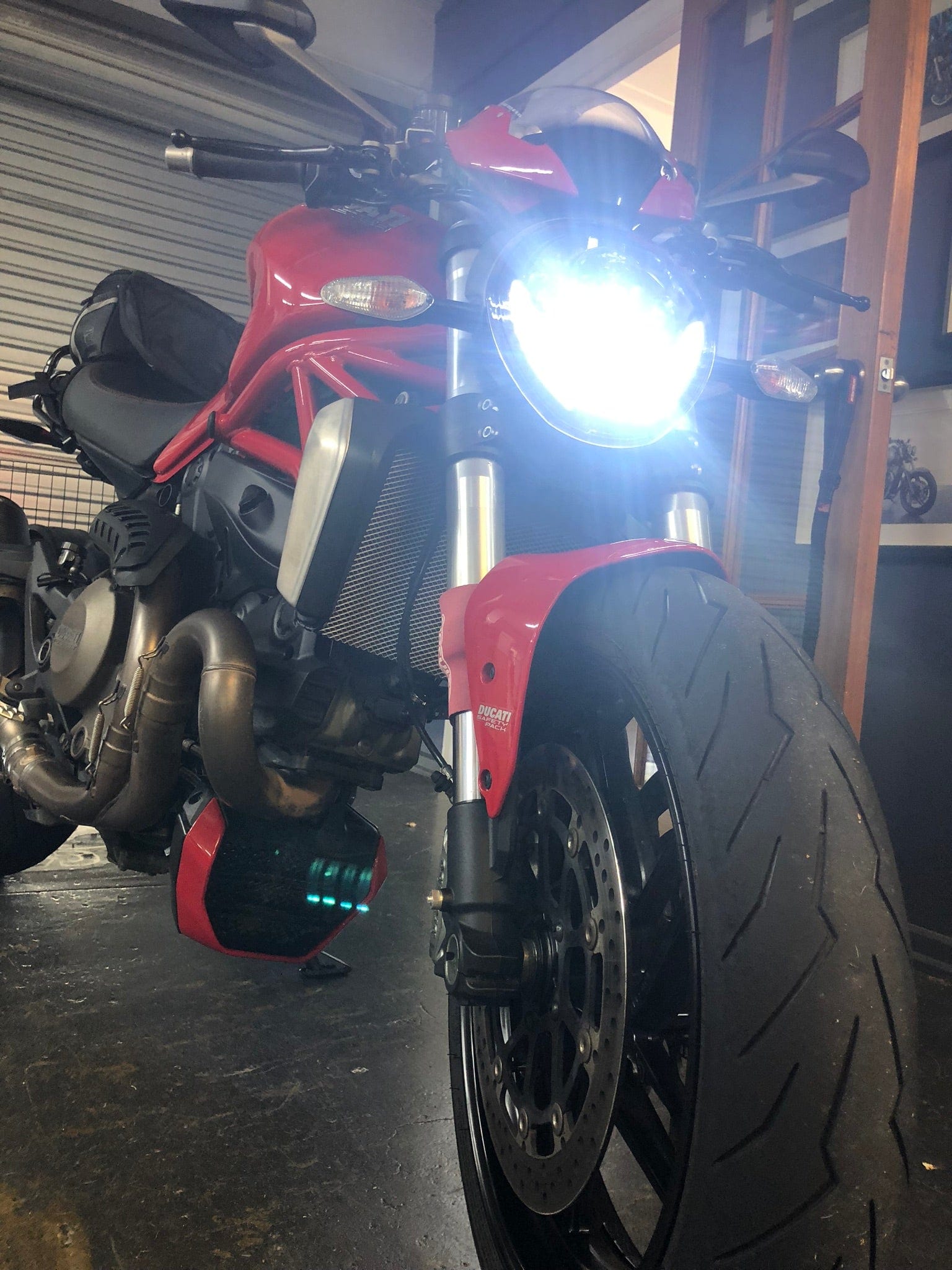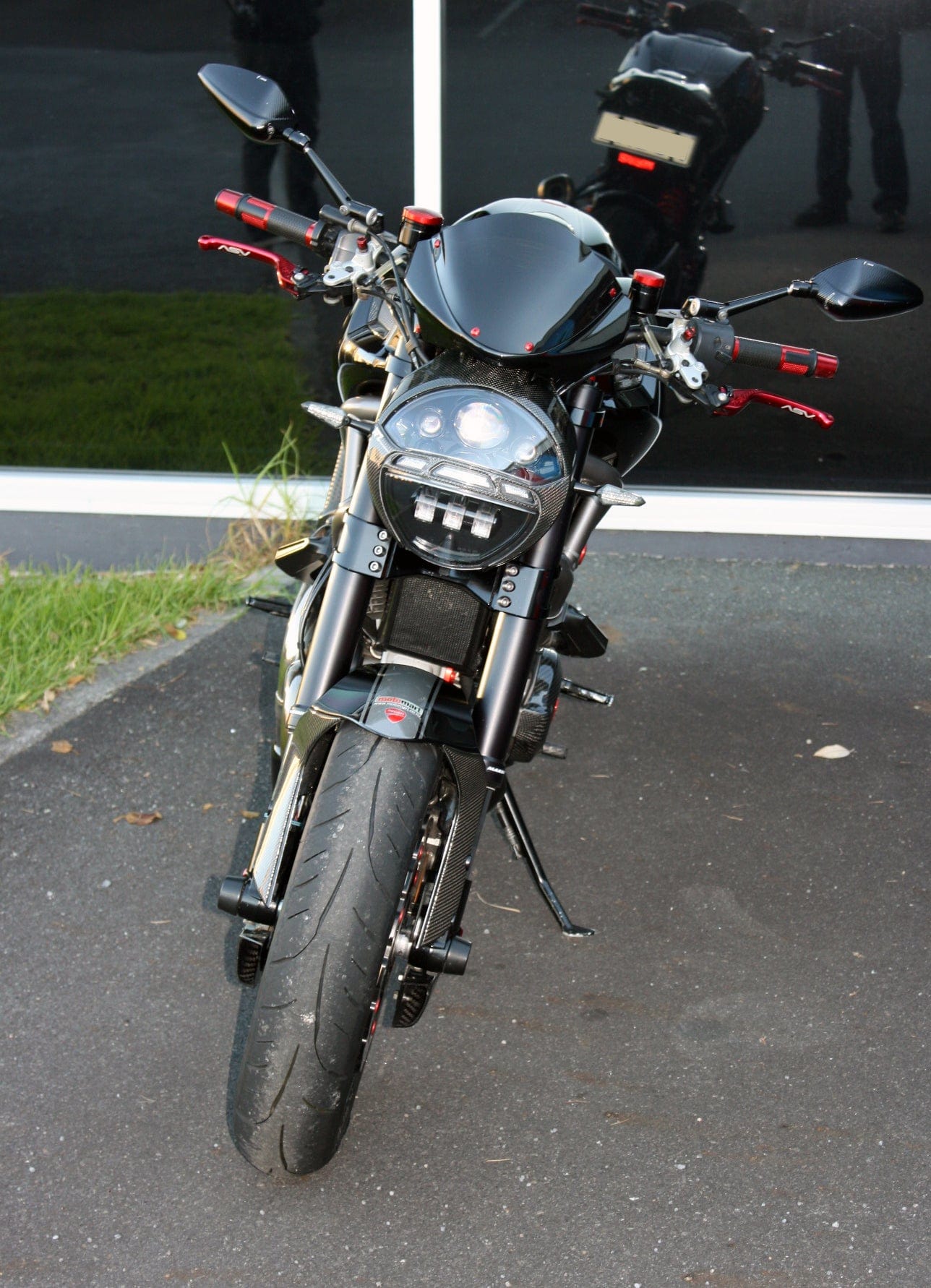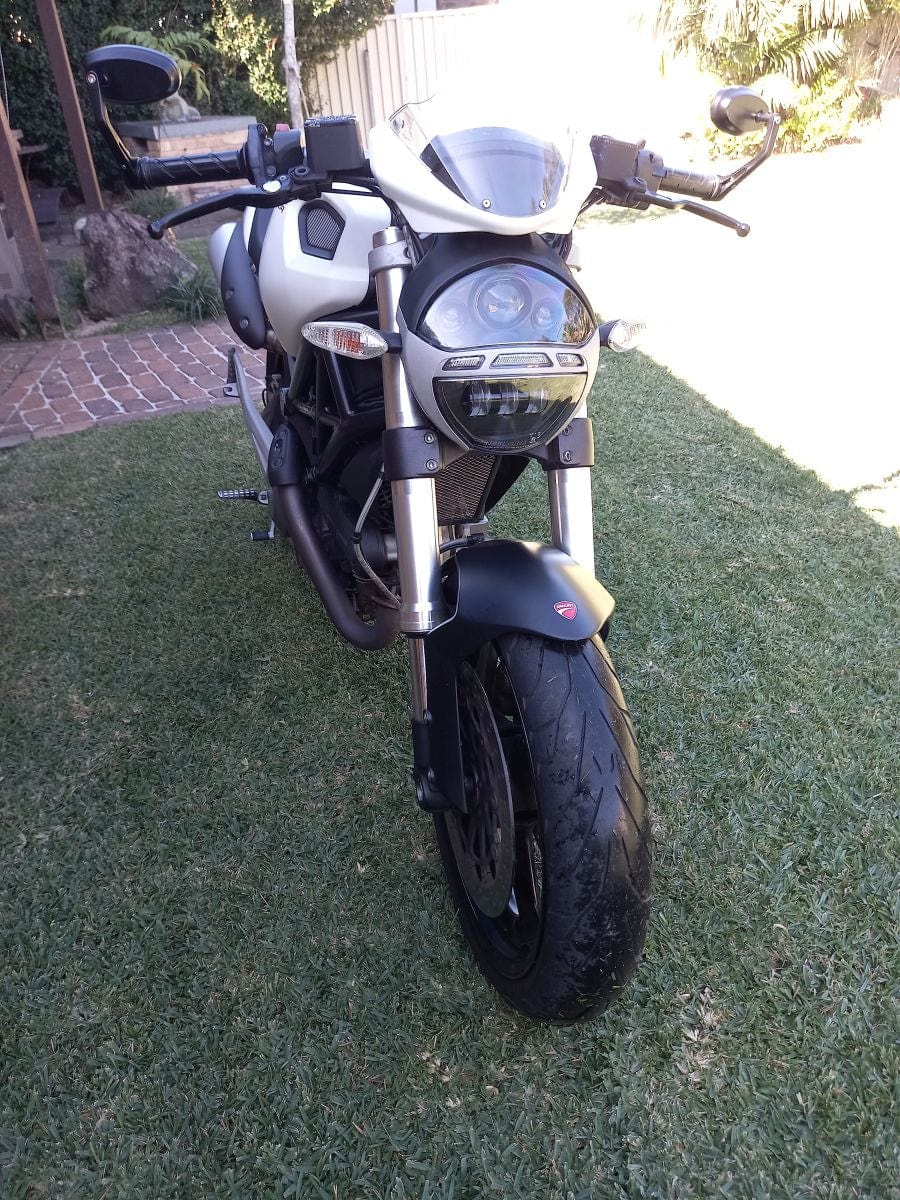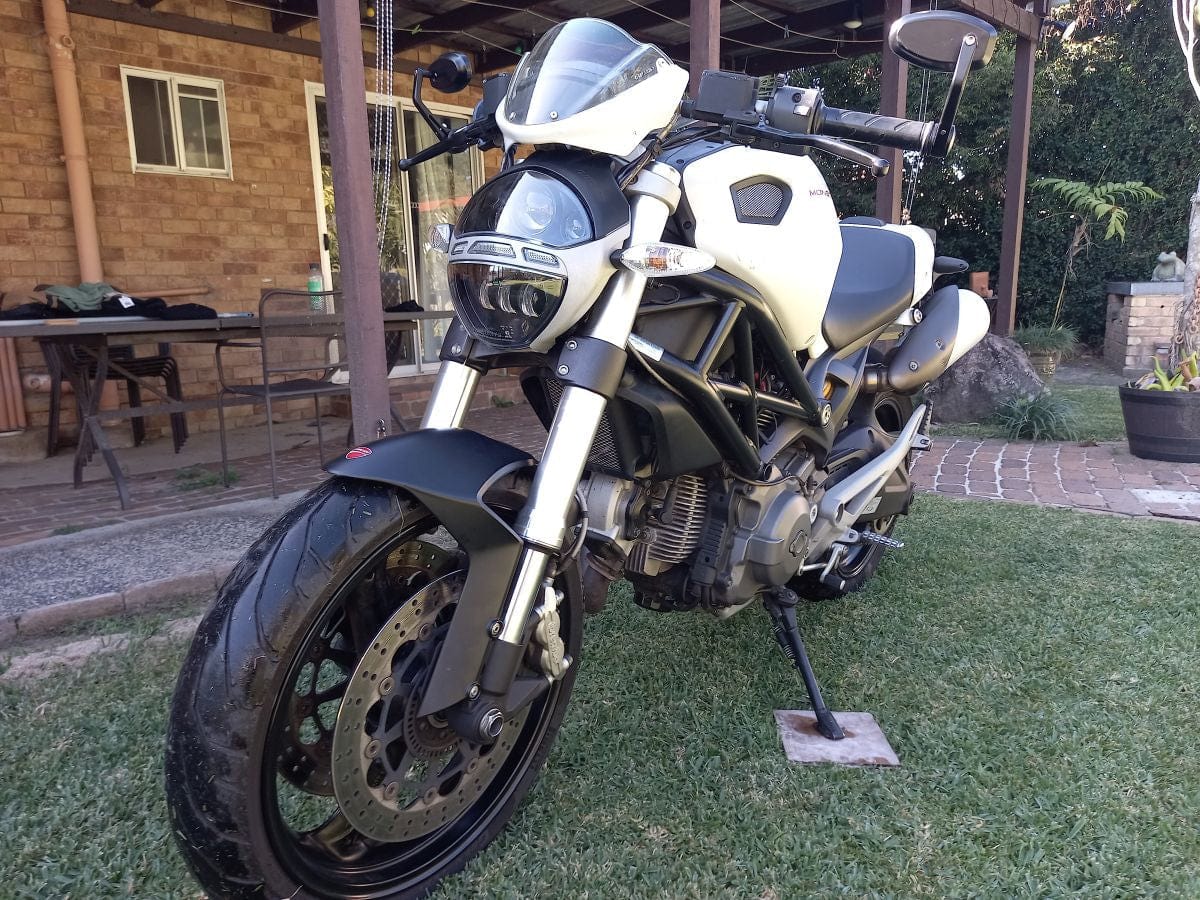 Ducati Monster 659/696/795/1100 LED Headlight
Beast Meets Brilliance!
Your Ducati Monster embodies power, elegance, and iconic design. And now, with HogLights, it's time to add a touch of modern radiance to that roaring beauty.
Why Shine with HogLights?
Legacy and Luminosity: Celebrate your Monster's heritage while embracing the future with unparalleled brightness.
Crystal Clear Journeys: Whether it's cruising in the daylight or prowling after dark, keep your paths brilliantly lit.
A Promise of Quality: A whopping 7-year warranty ensures that our lights don't just dazzle; they endure.
Specifications:
Elegant Design: Headlamp sporting a sharp black backplate.
Lensing Mastery: Triple "D-shaped" low-beam alongside triple top-mount high-beam projector lenses.
Day Ride Safeguard: Additional park light for enhanced daytime visibility.
Resilient Craftsmanship: Solid-state LEDs crafted for longevity and fortified against shocks and vibrations.
Seamless Installation: User-friendly setup seamlessly connects to the factory headlamp wiring.
Safety and Standards: HogLights LED boasts ADR, DOT & ECE113 compliance.
Power Metrics: High at 50w, Low at 35w, DRL at 5w; operated between 10-14V DC. Empowered by industry-leading CREE LEDs.
Compatibility:
Tailor-made for:
Ducati Monster 659 (2012 - 2015)
Ducati Monster 696 (2008 - 2014), inclusive of the 2011 Monster 696 ABS variant.
Ducati Monster 795 (2012 - 2015) and Monster 796 (2011 - 2013), including the 2011 Monster 796 ABS model.
Ducati Monster 1100 (2009 - 2010), Monster 1100S (2009 - 2010), and Monster 1100 EVO (2011 - 2013).
Designed to replace OEM 52010173B.
Unleash Your Monster's Full Glow:
When power and elegance intersect with luminosity, the road ahead isn't just clear; it's an invitation. Answer the call with HogLights. Shine on!
Regular price

Sale price

$375.00

Unit price

per
Shipping Info
COMPETITVE SHIPPING RATES GLOBALLY
Covid-19 Shipping Delay Notice
Specifications

Suitable For

Warranty

Shipping

Reviews

Frequently Asked Questions
Headlamp with a black backplate
Features a triple "D-shaped" low-beam lenses, a triple top-mount high-beam projector lenses
Park light provide additional viability 
Solid-state LEDs are designed for long life, and the shock-and vibration-resistant lamp assembly mounts into existing light housings
Installation is quick and easy, and the plug-in lamps connect to the factory headlamp wiring
HogLights LED inserts are ADR, DOT & ECE113 compliant
Power: High 50w, Low 35w, DRL 5w 
Voltage: 10-14V DC 
Leds: CREE 
2012 - 2015 Monster 659
2008 - 2014 Monster 696
2011 Monster 696 ABS
2012 - 2015 Monster 795
2011 - 2013 Monster 796
2011 Monster 796 ABS
2009 - 2010 Monster 1100
2009 - 2010 Monster 1100S
2011 - 2013 Monster 1100 EVO
Replaces OEM 52010173B
All HogLights LED Headlights have a seven (7) year warranty against manufacturing defects.
The CREE LED's are rated for 30,000 hours (approx 11.3 years of 8 hours a day operation).
Please refer to our complete warranty policy here.
Australian Shipping
Looking for affordable shipping rates for your orders? Look no further! We've got you covered with our flat rate shipping fees that will make your shopping experience a breeze.
With our shipping fees, you can enjoy peace of mind knowing that all orders are charged at a fixed rate. For orders under $200, we offer a competitive rate of $20.00. And for orders over $200, you'll enjoy an even lower rate of just $12.50 (excluding Audio products).
Speaking of Audio products, we understand how precious they are to you. That's why we've got an Australia wide special flat rate shipping fee of $25.00 for all Audio products.
At our store, we believe in providing you with the best possible service. That's why we use a variety of reliable and efficient services to ensure your order gets to you as quickly as possible.
International Shipping
International shipping is available for all of our products and is automatically calculated in our shopping cart during checkout. All international shipping is done with a tracking number so you can watch its progress to you. Please be aware that you may be charged Import Duty or Import Taxes from your Customs Office, HogLights is not responsible for any import duties or taxes payable.
Our General Shipping Guidelines
In stock - within 7 days
Out of stock - approx 14 days
Special order - approx 21 days
For our shipping policy, please click here
Frequently Asked Questions
Frequently Asked Questions
Why should I switch to LED headlights for my motorcycle?
LED headlights are a popular choice due to their efficiency, longevity, and improved visibility. They consume less power than traditional halogen bulbs, provide a brighter and whiter light that covers a wider area, and have a longer lifespan - up to 50,000 hours!
Are LED headlights safe for night riding?
Absolutely! LED headlights are known for their superior brightness, which can greatly enhance your visibility not just during night-time rides, but during the daytime too. In fact, the enhanced visibility can increase safety by making you more noticeable to other road users.
Do LED headlights fit all types of motorcycles?
Most LED headlights are designed to be universal and should fit a broad range of motorcycles. However, it's always a good idea to check the specific fitment information before making a purchase, as some models may require an adapter or a different mounting bracket..
re LED headlights hard to install on a motorcycle?
Generally, installing LED headlights is a straightforward process that most people can handle with basic tools. However, depending on your motorcycle model, it may require a little more wiring or mounting. Always check the installation instructions and consult a professional if you're unsure.
Do LED headlights drain the motorcycle battery?
On the contrary, LED headlights are more energy-efficient than traditional halogen bulbs. They draw less power from your motorcycle's electrical system, which can contribute to a longer battery life. But remember, it's always important to turn off your lights when your bike isn't running to maintain your battery's health..