Make Your Harley LOUD with HogLights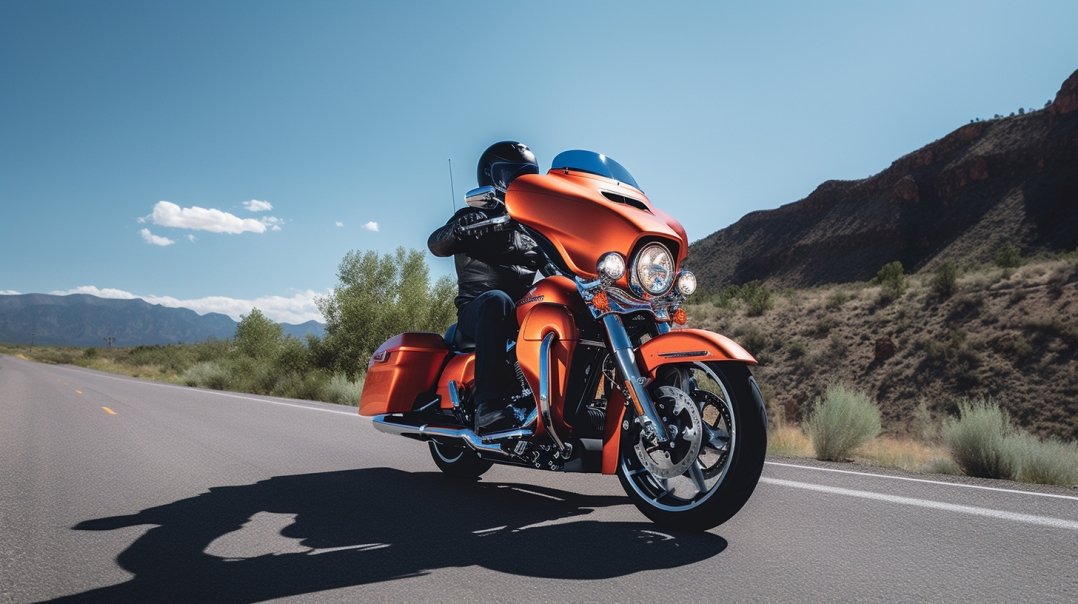 Have you ever wished that your Harley not only stood out in looks but also sounded just as outstanding? As the heart of your motorcycle, audio systems play an essential part in turning an ordinary ride into an extraordinary experience. At HogLights, we understand this to the core. Our mission? Bring the best out of your Harley's personality by marrying power-packed performance with unbeatable aesthetics. And nothing does it better than top-quality motorcycle audio systems.
Harley-Davidson Audio Systems are a sweet melody to any biker's ears. Combining superior sound quality with rugged durability, these systems provide a ride-along concert that's music to your ears - quite literally!
"It's about creating a symphony between the engine's roar and the rhythm of your favourite track. We're turning dreams into reality, one Harley at a time."
Let's delve into the details of how you can make your Harley loud and proud with HogLights.
Amplifiers - The Heart of Your Sound System
An audio system without a good amplifier is like a Harley without its iconic roar. Our Harley-Davidson Amplifiers are designed to boost your audio signal, providing clear, loud, and distortion-free sound even at high volumes. But what makes these amplifiers truly special is their compatibility. They are crafted to match the acoustic dynamics of a Harley, which means your tracks will sound just as good at a dollar twenty as they do in the carpark.
Power output: This represents how loud your amplifiers can make your music. It's measured in watts, and higher is generally better.

Number of channels: This tells you how many speakers you can connect to your amplifier. More channels mean more speakers and more speakers mean a louder and richer sound.

Build quality: Our amplifiers are built to last, with robust construction that can withstand the vibration and weather conditions typical of motorcycle riding.
The balance between these features ensures your audio system sounds great, lasts long, and most importantly, makes your Harley loud.
As you consider your amplifier options, don't forget to look at the Harley-Davidson Audio Bundles we offer. These pre-configured kits include everything you need to upgrade your motorcycle's audio system, from the amplifier and speakers to all necessary wiring and mounting hardware. It's a one-stop solution for anyone looking to give their Harley a voice that matches their personality.
We are just getting started. Stay tuned for more on how you can make your Harley loud with HogLights in the next section.
A Concert on Wheels: Harley-Davidson Head Units
Elevating your Harley to a rolling symphony starts with selecting the perfect Head Unit. One prime example from our collection is the Rockford Fosgate Digital Media Receiver, tailored to be a direct replacement for 1998 - 2013 Harley-Davidson Touring motorcycles. It ensures that your favourite melodies resonate as beautifully on the bustling highways as they do in the tranquil ambiance of your home.

Our head units are designed to provide you with the pinnacle of audio control. They allow you to fine-tune the treble and bass, manage volume, and even adjust the sound stage to match your ride and personal preferences. Here are the qualities that make our head units stand out:
Ease of Use: Our head units seamlessly integrate with your existing audio controls, enabling you to conveniently navigate your playlist while maintaining focus on your journey.
Compatibility: They can seamlessly connect with a wide range of devices through USB, Bluetooth, or even the good old FM/AM channels.
Plug & Play: Our head units provide an easy upgrade path with a simple plug & play system.  
Robustness: Built to endure the demanding conditions of road travel, our head units are designed to be reliable partners for your long-term adventures.
But what's a head unit without speakers that bring the music to life?
Speakers - Giving Your Harley Its Voice
For a truly immersive musical ride, you need Harley-Davidson Speakers that deliver superior sound quality. Our range of speakers offers clear, loud, and high-definition audio, turning your ride into a moving symphony.
The main features to consider while choosing speakers for your Harley include:
Sound quality: Our speakers offer a perfect balance of bass, mids, and highs to ensure you get the best sound quality even at top speeds.
Durability: Built to survive, our speakers can resist the outdoor elements, keeping your music alive in all weather conditions.
Design: With an attractive design and compact size, our speakers not only sound great but also look the part.
Brands That Stand Out
We also take pride in hosting premium brands like Rockford Fosgate and Hogtunes, renowned for their high-quality audio systems. They are indeed the power duos for any Harley lover who appreciates good music and great rides.
So far, we've covered amplifiers, head units, and speakers - the trio that's instrumental in making your Harley loud with HogLights. Up next, we'll uncover a few additional elements to consider to ensure you have the best audio system for your Harley. Stay with us!
Bundles - Amplifying Convenience
Ready to revamp your Harley's audio system but unsure about the components? Let us simplify things for you with our Harley-Davidson Audio Bundles.
Our bundles are carefully curated, combining the best of speakers, amplifiers, and head units, delivering a concert-quality audio experience. With our bundles, you not only get a hassle-free shopping experience but also the assurance that every component works in harmony, giving your Harley the loudness it deserves.
At HogLights, we believe in delivering an audio experience that matches the quality and character of your Harley. That's why our bundles are so popular among Harley enthusiasts.
Setting the Stage for the Perfect Audio Experience
Installing a high-quality audio system on your Harley is more than just about making it loud. It's about setting the stage for a superior on-road audio experience. It's about ensuring that every ride is accompanied by the perfect soundtrack, enhancing every journey, and every adventure.
We, at HogLights, are dedicated to helping you achieve this. With our selection of Harley-Davidson Audio Systems, we ensure that your Harley isn't just about the ride; it's about the rhythm of the road, the symphony of the speed, and the melody of the miles.
Our audio systems bring music to your ears, quite literally, making your Harley LOUD and your journeys melodious. After all, isn't that what the perfect ride is all about?
Wrapping Up the Sound Symphony
The magic of a Harley ride is unparalleled - the roar of the engine, the wind on your face, and now, the pulse of the music. With HogLights, your Harley doesn't just ride; it sings, dances, and delivers a rock concert on wheels.
From our amplifiers to head units, speakers, and audio bundles, every product is designed to transform your ride into a musical journey. So let's make your Harley LOUD with HogLights. Let the music play, the roads unravel, and the adventures begin.
Because, at HogLights, we believe that every ride deserves a soundtrack.