Light up your BMW Motorcycle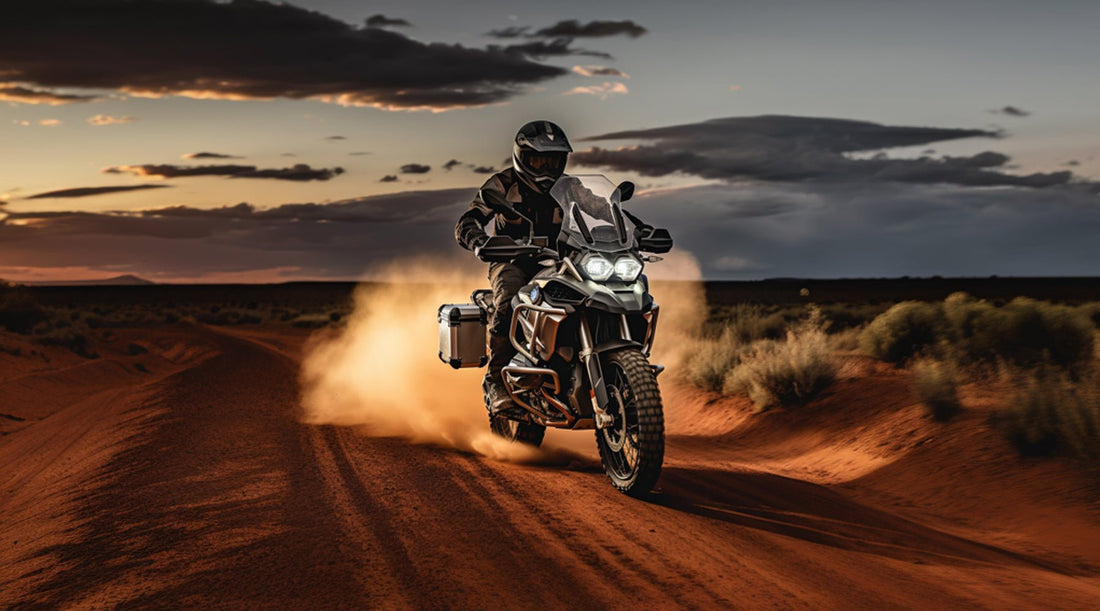 Exploring Lighting Options for BMW Motorcycles
Hey there, fellow thrill-seekers! Are you ready for a ride that's not just exhilarating but brilliantly illuminated too? Hold on tight as we dive into the electrifying world of motorcycle lighting – a world where safety, style, and a touch of excitement fuse seamlessly. You know that feeling when the wind rushes past you and the road stretches out ahead? Well, buckle up because HogLights is here to ensure every ride becomes an illuminating adventure, tailor-made for all you BMW motorcycle aficionados out there.
Enhancing Your Ride with HogLights
Imagine this: you're perched on your BMW motorcycle, the engine humming beneath you, and the open road beckoning with endless possibilities. That's the magic of HogLights – transforming your everyday ride into an extraordinary escapade. Our collection of LED motorcycle lights acts as a catalyst, elevating your journey regardless of the terrain. From bustling city streets to off-the-beaten-path trails, HogLights' meticulously crafted lighting options are designed to enhance every facet of your riding experience.
Striking the Perfect Balance of Safety and Style
Whoever said you have to compromise safety for style clearly hasn't met HogLights. With our BMW lighting collection, you get the best of both worlds – a fusion of cutting-edge safety features and eye-catching designs that'll make your motorcycle stand out in any crowd. It's a seamless blend that caters to riders who refuse to settle for anything less than the perfect amalgamation of functionality and aesthetics. So, if you're a rider who values staying safe without compromising on style, our collection is tailored just for you.
A Glimpse into the HogLights Collection
Lights, camera, action! Now, let's take a closer look at the stars of the show – HogLights' lighting categories that promise to revitalize your riding experience:
Headlights: Illuminate Your Path with Precision
Imagine cruising down the road at night, the darkness illuminated by cutting-edge LED headlights. It's not just about dispelling the darkness; it's about embarking on your journey with unparalleled clarity and confidence. HogLights' BMW headlights are more than mere illuminators – they're guiding stars that turn every ride into a thrilling adventure. Be it rugged terrains or urban streets, these headlights are your beacons of safety, style, and the promise of unforgettable rides.
Accessory Management: Embrace Order and Elegance
Tired of the tangled mess that comes with accessories? Picture a world where your BMW motorcycle is the epitome of organization and elegance. Enter our meticulously designed accessory management products – the answer to clutter-free rides. These products seamlessly integrate with your bike, ensuring every accessory finds its rightful place. Bid adieu to chaotic setups and tangled wires; HogLights transforms your motorcycle into a symphony of convenience and sophistication.
Auxiliary Driving Lights: Elevate Your Nocturnal Adventures
The night becomes your canvas, and the road your masterpiece when you equip your BMW with auxiliary driving lights. These lights transcend mere illumination, becoming your steadfast guardians of safety. They extend your visibility range, instilling unwavering confidence as you navigate through twists and turns. Whether you're conquering uncharted trails or cruising city streets beneath the stars, these lights add an extra layer of security, turning your night rides into exhilarating escapades.
Brake & Tail Lights: Safety with a Dash of Panache
Safety isn't up for negotiation – it's a non-negotiable. With HogLights' brake and tail lights, safety gets an elegant upgrade. These lights not only signal your presence on the road but do so with flair. When you hit the brakes, you're not just stopping – you're making a statement. Seamlessly blending cutting-edge technology with BMW's legacy of design, these lights redefine the intersection of safety and sophistication.
Indicators: Communicate Clearly, Ride Confidently
Effective communication on the road is paramount. HogLights' range of indicators goes beyond the basics. These indicators convey your intentions with crystal clarity, ensuring that every lane change, turn, or maneuver is communicated effectively. Designed to complement your BMW's aesthetics, they add a touch of elegance to your ride while enhancing safety. It's not just about illumination; it's about confidently expressing yourself on the road.
SoundBomb Horns: Make Your Presence Resound
When you sound your horn, it's not just a noise – it's your distinct roar on the road. With SoundBomb horns from HogLights, you command attention with a sound that's unmistakably you. Whether you're weaving through city streets or dominating off-road trails, these horns ensure your presence is heard with authority. It's more than a safety feature – it's an extension of your identity, amplifying your influence wherever your BMW carries you.
The Triple Commitment: Quality, Style, and Safety
HogLights doesn't just deliver lighting; we provide an experience that exudes quality, defines style, and guarantees safety. It's about boosting your confidence on the road through illuminating solutions. Want to know more about why HogLights stands for quality, style, and safety? Explore here.
Exploring the Range: Diverse Lighting Options
Your BMW motorcycle deserves nothing but the best, and that's precisely what HogLights offers through its diverse range of lighting options. Explore the full array of BMW motorcycle lighting options and find the perfect fit for your ride.
Conclusion: Embark on an Illuminating Adventure
Ready to make each ride an unforgettable adventure? HogLights' LED lighting collection is your key to illuminating every path you take. Elevate your ride, enhance your style, and keep safety at the forefront – it's all attainable with HogLights.
So, what's holding you back? Light up your BMW motorcycle and dive into a new chapter of electrifying escapades. The road is calling, and HogLights is your guide to a luminous adventure you won't soon forget.