ChopZ Tail Tidies: The Perfect Finishing Touch to Your Harley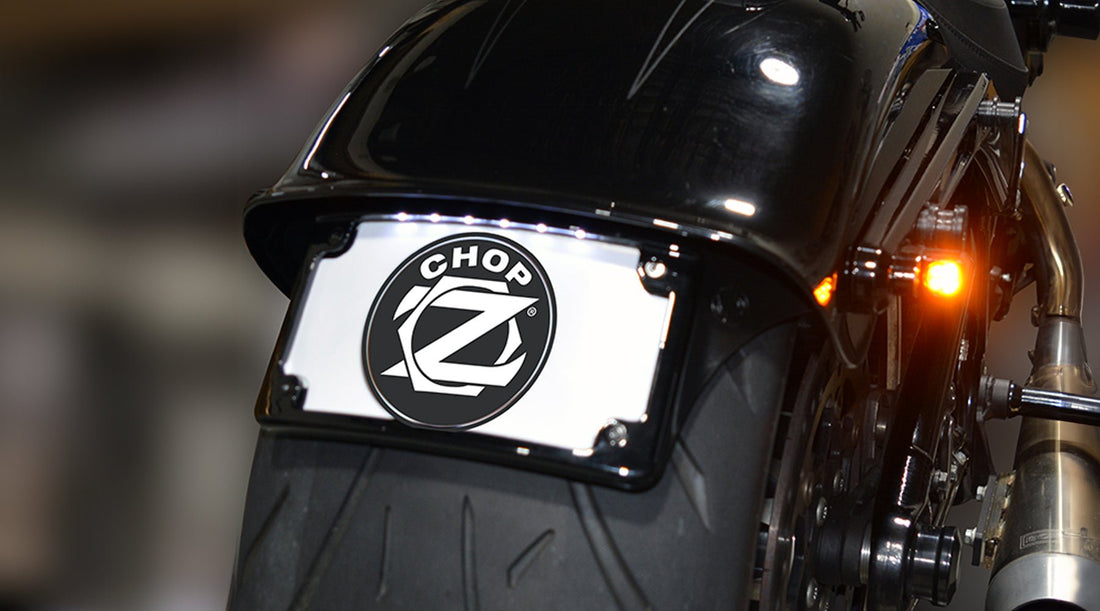 You love your bike, but why leave it looking stock? Unveil a new chapter of style with ChopZ Tail Tidies.
When it comes to motorcycle customisation, it's not just about performance—it's about character, aesthetics, and that personal touch, making it yours. For those looking to elevate their bike's rear aesthetics while retaining strength and functionality, ChopZ Tail Tidies emerges as a clear winning game-changer.
Why Tail Tidies Matter
Think about the back end of your motorcycle for a second. Bulky license plate mounts? Oversized, bulky indicators? That's not the look you were going for when you bought your Harley. Tail Tidies clean up the rear, providing a minimalist touch that packs a punch. And with HogLights – your go-to destination for premium bike accessories – you're in for a treat with the ChopZ brand.
Fit It Right: Compatibility Check
Compatibility is king. You wouldn't wear shoes that are a size too big, so why settle for generic bike accessories? Our ChopZ Tail Tidies fit snugly with:
| Harley Model | Year |
| --- | --- |
| Harley Davidson Breakout FXSB | 2013-2017 |
| Harley Davidson Breakout FXBR | 2018 and up |
| Harley Davidson Fat Boy FLFB | 2018 and up |
ChopZ Tail Tidies: A Fusion of Form and Function
For the discerning biker, every component of their ride speaks volumes about their passion, taste, and attention to detail. It's not just about speed or performance but a symphony of style and functionality. This philosophy lies at the heart of ChopZ Tail Tidies. It's where impeccable design meets unparalleled practicality, ensuring your motorcycle not only rides well but looks exceptional when doing it. Explore the facets that set ChopZ Tail Tidies apart:
Sleek Aesthetics: Ditch the distractions. Highlight your bike's curves and embrace that sleek, fat tire look.
Robust Build: An artful blend of elegance and endurance. As resilient as it is ravishing.
Noiseless Ride: Say goodbye to annoying rattles. A silent glide is now your ride's signature.
Economical Choice: Recycle your original parts. Elite design shouldn't mean breaking the bank.
When choosing a ChopZ Tail Tidy, you're opting for:
Pristine Presentation: Let your bike's fat tire and sharp design shine without the interference of unsightly license plate mounts or bulky indicators. ChopZ is the epitome of motorbike aesthetics.
Unyielding Strength: Our groundbreaking plate assembly upholds the robustness of stock inner fender structures, striking the right balance between aesthetics and resilience.
Intelligent Engineering: Designed to make minimal contact with the rear fender, utilising only the strut mounting points, ensuring a rattle-free ride.
Versatile Varieties: Whether you're aiming to refine your number plate or overhaul the chunky stock indicators, we've got you covered.
Seamless Installation: With plug-and-play options, transforming your bike is as easy as a snap.
Real Talk: Why HogLights?
Remember when Tom upgraded his Ducati with those high-end LEDs? Or how Jane's Indian motorcycle was the talk of the town after she revamped its lighting? They trusted HogLights.
Here's why you should too:
Multibrand Maestros: We don't just play favourites with one or two brands. We specialise in high-quality brands. It's a buffet of the best.
The LED Leaders: Founded in 2015, we began our journey by lighting up Harleys. Now, over 5,000 motorcycle models glow, thanks to us.
Rave Reviews: Our lights aren't just bright; they're brilliant. But don't just take our word for it; the thousands of 5-star reviews shine a light on our commitment to quality.
Wrap Up: Unleash Your Bike's Potential
Every ride is a story. Every journey is an adventure. And with ChopZ Tail Tidies from HogLights, your bike gets the stylish ending it deserves.
Don't let your bike be just another ride. Make it the ride.
Ready to transform your ride? Explore our store or hit us up for more details. Because with HogLights, the road ahead is always bright.