"HANFUL" - wicked HQ Holden with HogLights!!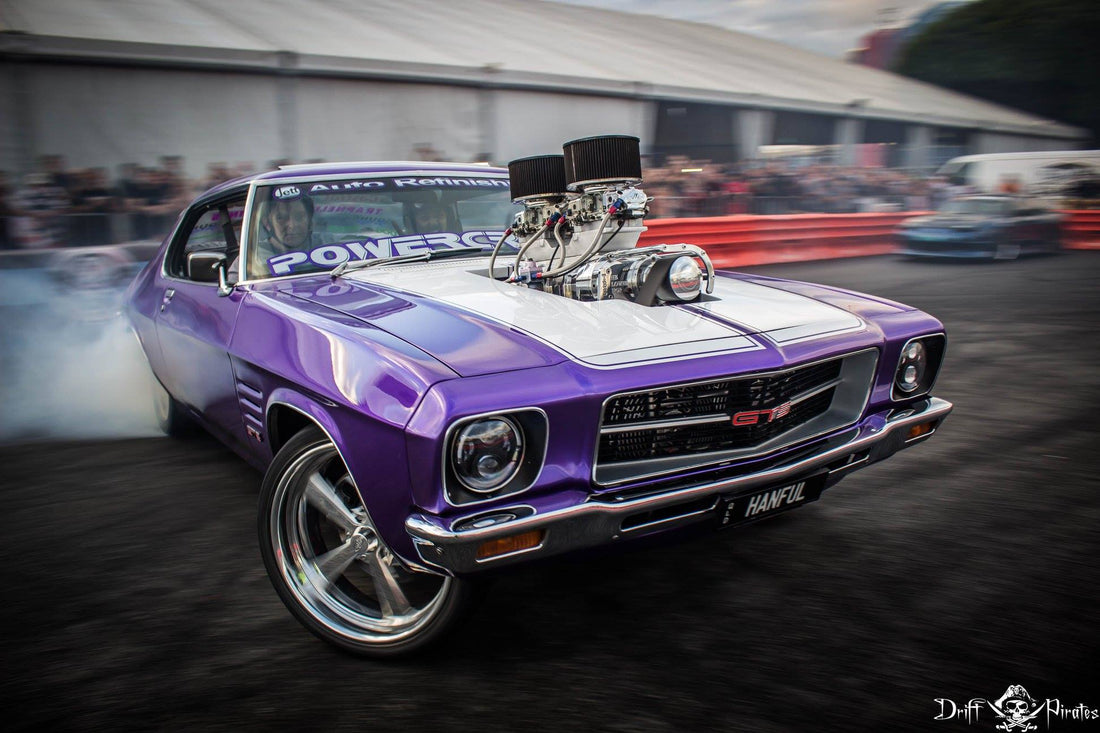 "HANFUL": A Closer Look at the Drift King Sporting 7" 80w LED HogLights
"HANFUL", the name that resonates with car enthusiasts across Australia, is the pride of the Australian car scene. This custom 1973 Holden HQ Monaro GTS is not just another vintage car; it's a spectacular spectacle on wheels, known for its drifting prowess, fiery burnouts, and active participation in popular motorsport events like Powercruise. But what really makes this purple powerhouse tick?
The Internet is abuzz with videos of "HANFUL" showing off its power. From powerskids to dyno runs, the supercharged big block engine of this iconic car has drawn attention on numerous YouTube channels, proving its status as an undeniable sensation in the digital world.
This isn't just any old Holden. The "HANFUL" Holden Monaro HQ GTS has been painstakingly customised to create a beast of a vehicle that's as unique as it is powerful. From the bespoke paintwork to the finely-tuned engine, this is a car that's been built with a singular purpose in mind: to push the limits of performance and style.
The standout feature of "HANFUL" is its striking custom purple paint job. It's a feature that not only sets it apart from the crowd but has been immortalised in diecast model form, available on Riverina Model Cars Plus and HSVLionsDen. The supercharged big block engine under the bonnet gives "HANFUL" the kick it needs to dominate on the drift track and leave other cars in its smoke. Enhancing visibility and giving "HANFUL" a fearsome look are the 7" 80w LED HogLights, a fitting addition to this powerful vehicle.
"HANFUL" has become synonymous with Australian motorsport. It's as much about performance as it is about aesthetics. Over the years, specific alterations have been made to ensure "HANFUL" dominates in drifting and burnout events. The result? A car that doesn't just turn heads – it snaps them around.
If you want to get a slice of the "HANFUL" action, you're in luck. Diecast models of the "HANFUL" Holden Monaro HQ GTS are available for purchase. These models, featuring the car's iconic custom purple colour and other unique details, offer fans a chance to bring a piece of the action home.
From its high-octane performances to its eye-catching aesthetics, the "HANFUL" Holden Monaro HQ GTS is a standout vehicle that's sure to impress. This is one car that truly lives up to its name and stands as a testament to Australian car culture's vibrancy and innovation. 
Check out the interview with Mark "HANFUL"s handler at Joes Diner at the end of 2022