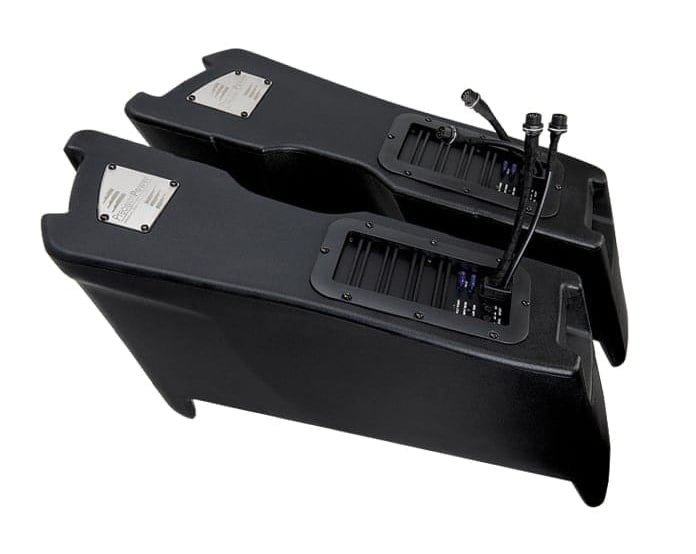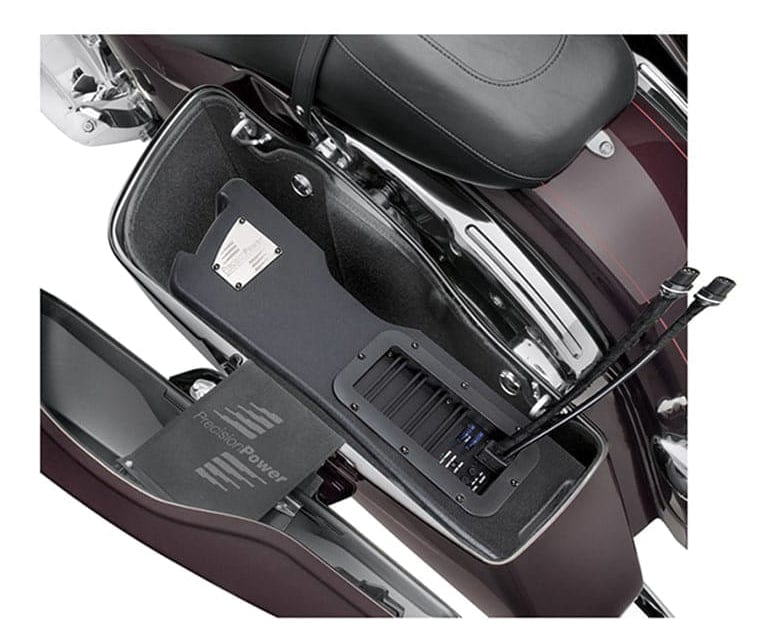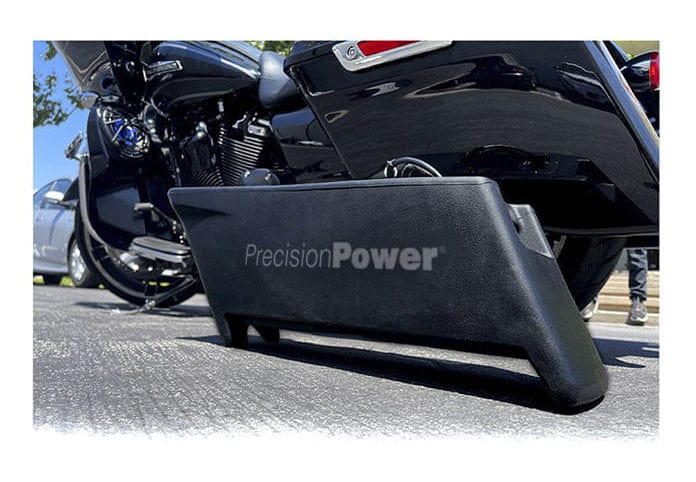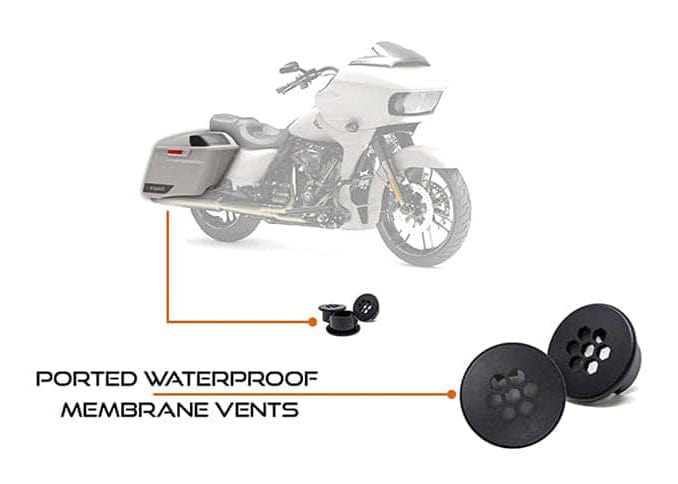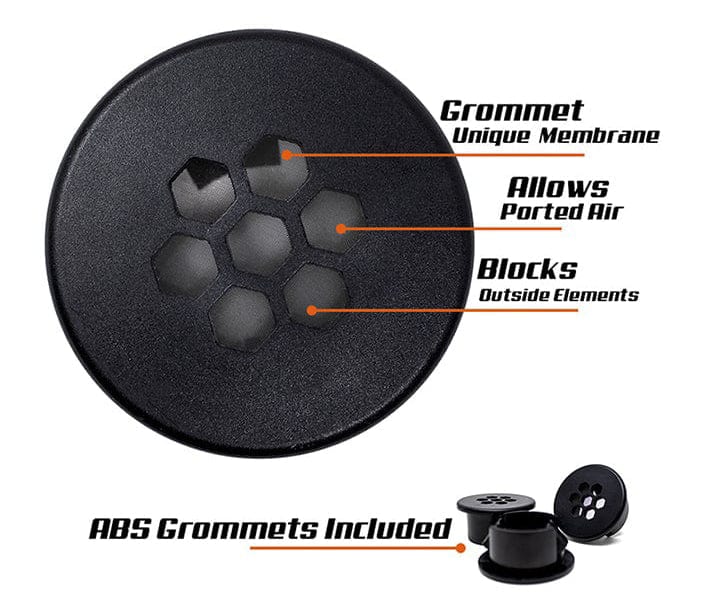 Soundstream Powered Subwoofer Fits 2014+ Harley Davidson® Touring Motorcycles
Transform Your Ride with Deep Bass – No Compromises!
Harley Davidson® riders, the search is over! Enhance your ride's sound dynamics with Soundstream's SBW-powered saddlebag drop-in subwoofer, a masterpiece by Precision Power. Dive into an exhilarating auditory experience without sacrificing your motorcycle's aesthetics or functionality.
Key Features of the Soundstream Powered Subwoofer:
All-In-One Solution: Skip the hassles of pairing amplifiers and enjoy this custom-built enclosure with an integrated subwoofer and a digital amplifier. No more tricky decisions – just pure, unadulterated bass.

High-Performance Design: The custom subwoofer combined with a passive radiator promises increased bass response, all powered by a 300-watt digital amplifier. The Neodymium Magnet Motor offers a light yet potent output boost.

Rugged Enclosure: Built from rugged rotational moulded ABS plastic, this subwoofer kit is built to withstand your adventurous rides while ensuring peak sound output.

Ported Membrane Technology: The subwoofer kit incorporates ported grommets with a unique membrane, letting sound waves flow freely while keeping harmful elements at bay – technology akin to your favourite sports earbuds.

Installer-Friendly Features: Designed for a seamless fit with 2014+ Harley Davidson® Touring Models, this subwoofer comes with waterproof quick disconnect plugs, a plug-n-play harness suitable for OE or aftermarket radios, and all necessary accessories for an effortless installation.

Optimized Enclosure: The down-firing subwoofer enclosure crafted from industrial-grade ABS ensures optimal sound dispersion, augmented by the addition of a low-frequency passive radiator.

Protection & Longevity: Equipped with a built-in Class-D subwoofer amplifier that comes with fault protection, this subwoofer ensures longevity and safe usage even in the harshest conditions.
Tailor-Made for Your Harley:
Whether it's the clutch side (HD14.SBWL) or the brake side (HD14.SWBR), this subwoofer is precision-made for a perfect fit. One ride with this subwoofer, and you'll wonder how you ever cruised without it. Amplify your adventures with Soundstream and let the roads reverberate with powerful bass!
Product Type:
Audio - Speakers
Regular price

Sale price

$1,084.00

Unit price

per
Shipping Info
COMPETITVE SHIPPING RATES GLOBALLY
Covid-19 Shipping Delay Notice
Fitment

Specifications

Shipping

Reviews

Soundstream Warranty

Soundstream FAQ's
2014+ Harley Davidson® Street Glide®, Electra Glide®, Electra Glide® Ultra Classic®

2015+ Harley Davidson® Road Glide®, Road Glide® Ultra

** Fits Stretched Bottom Saddlebags (HD Part Number: 90201078DH)
Down-Firing Subwoofer Enclosure Made of Industrial Grade ABS
Class-D Subwoofer Amplifier w/ Fault Protection Built-in
Enclosure Made of Industrial Grade ABS (Rotomolded)
Waterproof Quick-Disconnect Plugs for Easy Install/Removal in Saddlebag
Custom Active Subwoofer w/Low-Frequency Added Passive Radiator
Waterproof Hydrophonic Grommet Membrane Included
Plug-n-Play Harnesses Included for Stock or Aftermarket Radio
HD14.SBWL Clutch Side / HD14.SWBR Brake Side
Australian Shipping
Looking for affordable shipping rates for your orders? Look no further! We've got you covered with our flat rate shipping fees that will make your shopping experience a breeze.
With our shipping fees, you can enjoy peace of mind knowing that all orders are charged at a fixed rate. For orders under $200, we offer a competitive rate of $20.00. And for orders over $200, you'll enjoy an even lower rate of just $12.50 (excluding Audio products).
Speaking of Audio products, we understand how precious they are to you. That's why we've got an Australia wide special flat rate shipping fee of $25.00 for all Audio products.
At our store, we believe in providing you with the best possible service. That's why we use a variety of reliable and efficient services to ensure your order gets to you as quickly as possible.
International Shipping
International shipping is available for all of our products and is automatically calculated in our shopping cart during checkout. All international shipping is done with a tracking number so you can watch its progress to you. Please be aware that you may be charged Import Duty or Import Taxes from your Customs Office, HogLights is not responsible for any import duties or taxes payable.
Our General Shipping Guidelines
In stock - within 7 days
Out of stock - approx 14 days
Special order - approx 21 days
For our shipping policy, please click here
Soundstream provide a two year warranty for their products. Full details of Soundstreams warranty policy can be found here.
Frequently Asked Questions (FAQs) about Soundstream Reserve
As the world of motorcycle audio evolves, Soundstream Reserve has emerged as a leading choice for many Harley Davidson enthusiasts. Their range of radios, specifically designed for Harleys, offers unparalleled quality, functionality, and style. Over time, a number of common queries and concerns have surfaced regarding these products. To assist both current and potential users, we've compiled a comprehensive list of frequently asked questions (FAQs) about Soundstream Reserve radios. Whether you're curious about model variations, waterproofing capabilities, or integration features, our FAQs aim to address your queries and enhance your riding experience.
What models has Soundstream released?
Soundstream has released the HDHU9813SG for the 1998-2013 Street Glide and the HDHU.14+ and the HDHU.14Si for 2014 and newer Street Glide and Road Glide models. They have also released the HDHU.9813RG for the 1998-2013 Road Glide models.
Is the Soundstream Reserve Harley Davidson radio waterproof?
Yes, the radio has been tested to be watertight. Even underwater, the display remains visible and functional.
What is the warranty on the Soundstream Reserve Harley radios?
Soundstream Reserve offers a two-year warranty on all their Harley radios.
What are some of the questions people have regarding the Soundstream reserve radios?
People are curious about which model to choose the HDHU.14+ and the new HDHU.14Si model. They want to know the feature differences and the benefits of each.
What was Soundstream Reserve's major introduction a year and a half ago?
Soundstream Reserve introduced the HDHU.14+, the first directly bolt-in Plug and Play radio for the 2014 and newer Harley-Davidsons. It was IPX rated and featured a better display, Apple CarPlay, and Android Auto.
Were there any concerns about the Soundstream radio when it was first introduced?
There were concerns about its durability and value for money, especially given its cost. However, a year and a half later, the radios have proven to be fantastic, according to reviews.
What are the feature differences between Soundstream Reserve HDHU.14+ and HDHU.14Si?
Both radios have many common features but also differences. The Soundstream Reserve HDHU.14Si radio stands out due to its unique customization options, support for Apple CarPlay and Android Auto, and its water-resistant IPX Marine rating, along with its direct integration into the bike, retaining and adding additional features. Additionally, it offers features and improvements that set it apart from other models like the HDHU14+.
Do Soundstream radios support Apple CarPlay and Android Auto?
Yes, all versions of the Soundstream radios, like the HDHU.14+ and HDHU.9813RG, support both Apple CarPlay and Android Auto.
What screen size is required for Apple CarPlay and Android Auto?
Apple CarPlay and Android Auto require a minimum screen size for optimal functionality. The Soundstream radios meet these requirements.
How has the response been from users of Soundstream Reserve radios over an extended period?
Soundstream Reserve radios have been used on many Harleys for over a year, enduring varied conditions, including prolonged rain. The feedback has been positive, with no reported issues.
What makes the Soundstream Reserve HDHU.14Si radio distinct?
The Soundstream Reserve HDHU.14Si radio stands out due to its unique customisation options, Apple CarPlay and Android Auto support, and its water-resistant IPX Marine rating, along with its direct integration into the bike, retaining and adding additional features. Additionally, it offers features and improvements that set it apart from other models like the HDHU14+.
How does the Soundstream radio integrate with SiriusXM?
The Soundstream radio has a SiriusXM input, among many other features, for the HDHU.14+ model, users can download the SiriusXM app and use it through CarPlay or Android Auto.
What benefits do users get when ordering from HogLights?
When ordering from HogLights, users receive a two-year warranty because they are authorised dealers. Additionally, they ensure that the latest software is installed on the radio, eliminating users needing to perform software updates upon receipt.
What additional features are integrated at the top of the Soundstream radio?
To accommodate additional functionalities, Soundstream integrated features into the radio's top, enhancing its usability and design.
How does the Soundstream radio affect the sound quality?
Installing the Soundstream radio can make factory speakers sound better than ever. The audio can play much louder and clearer when paired with aftermarket speakers and an amplifier.
What are the benefits of Soundstream radio's customisation features?
The Soundstream radio offers the ability to change the colour of the buttons and set custom backgrounds, allowing users to personalise their radio to match their Harley better.