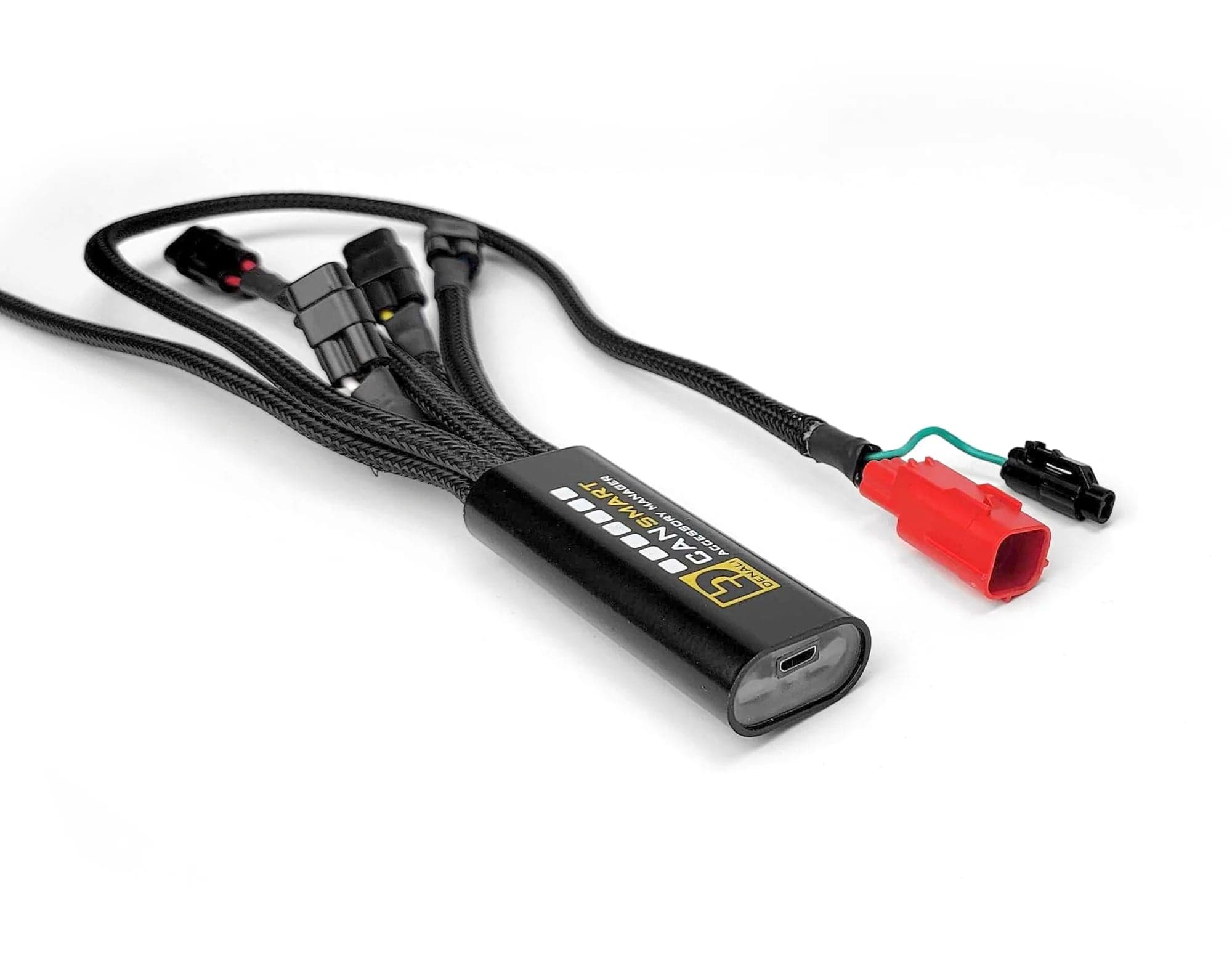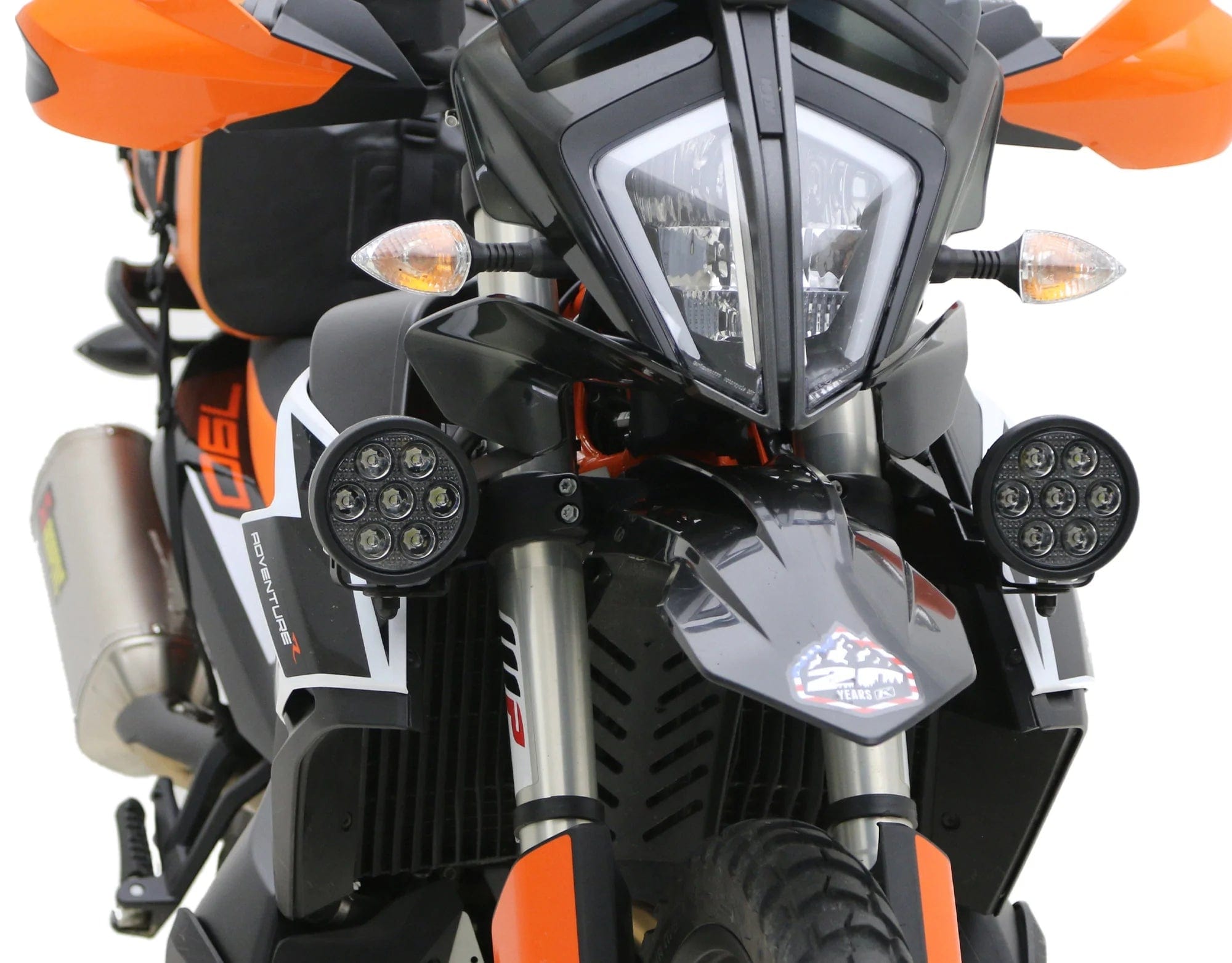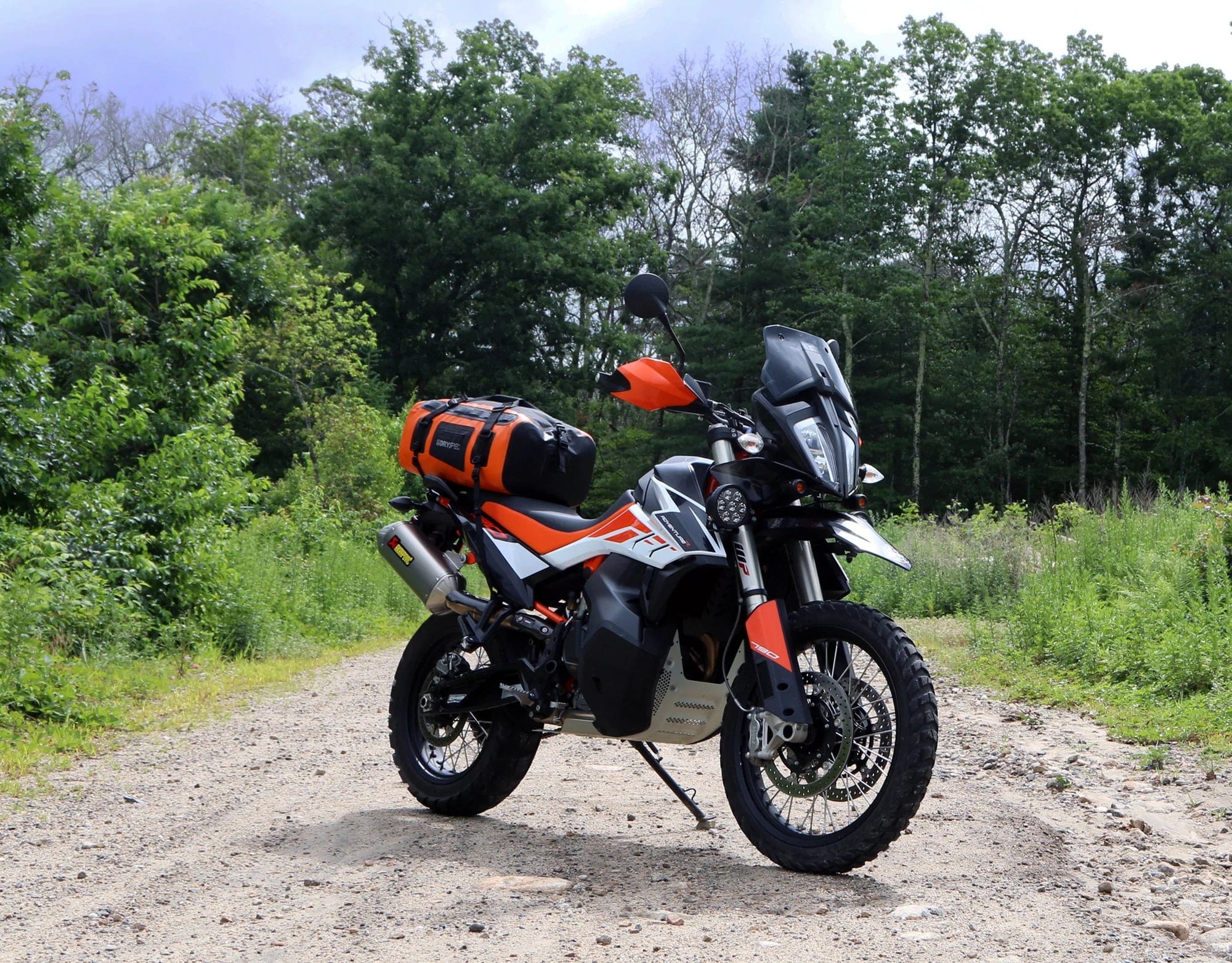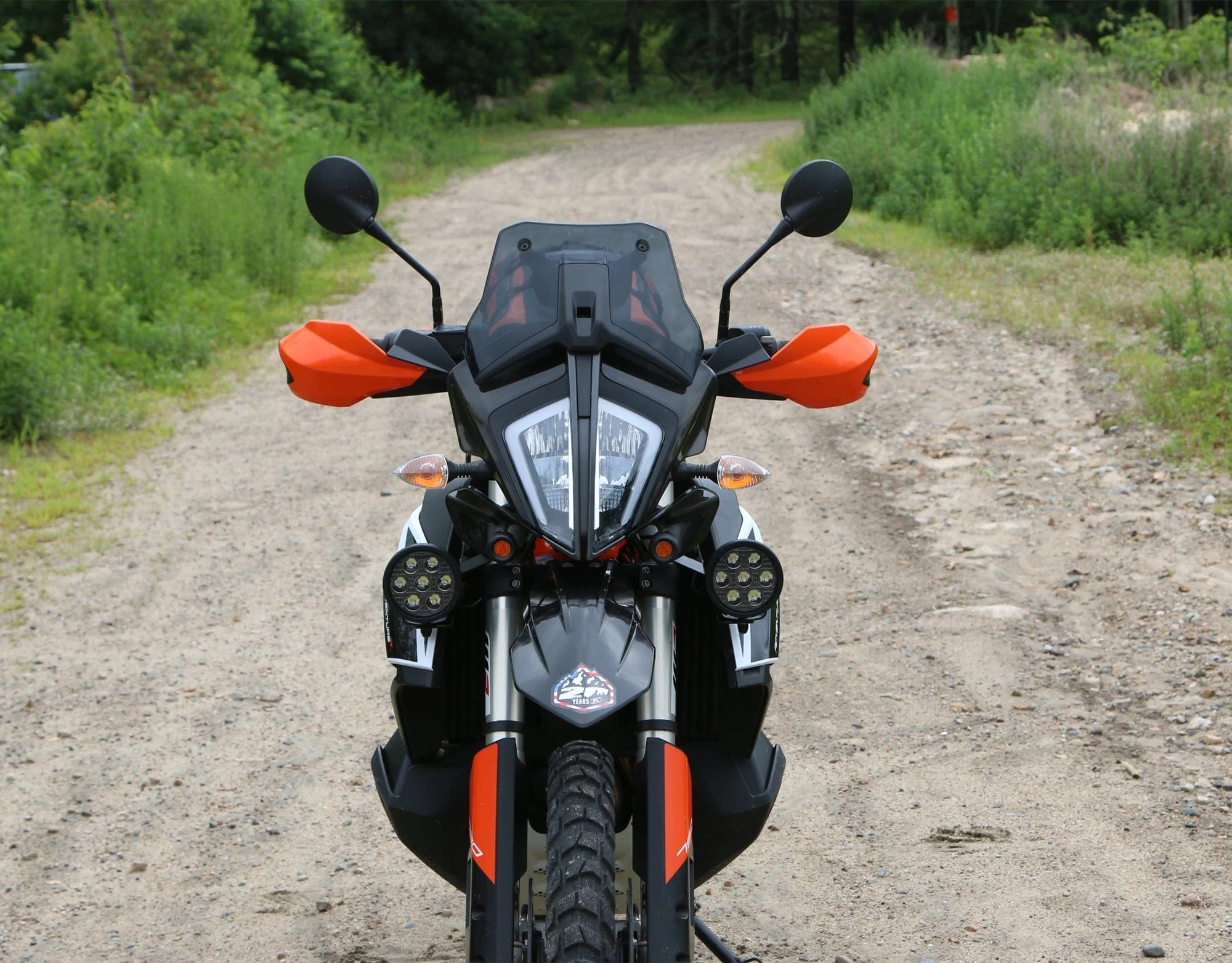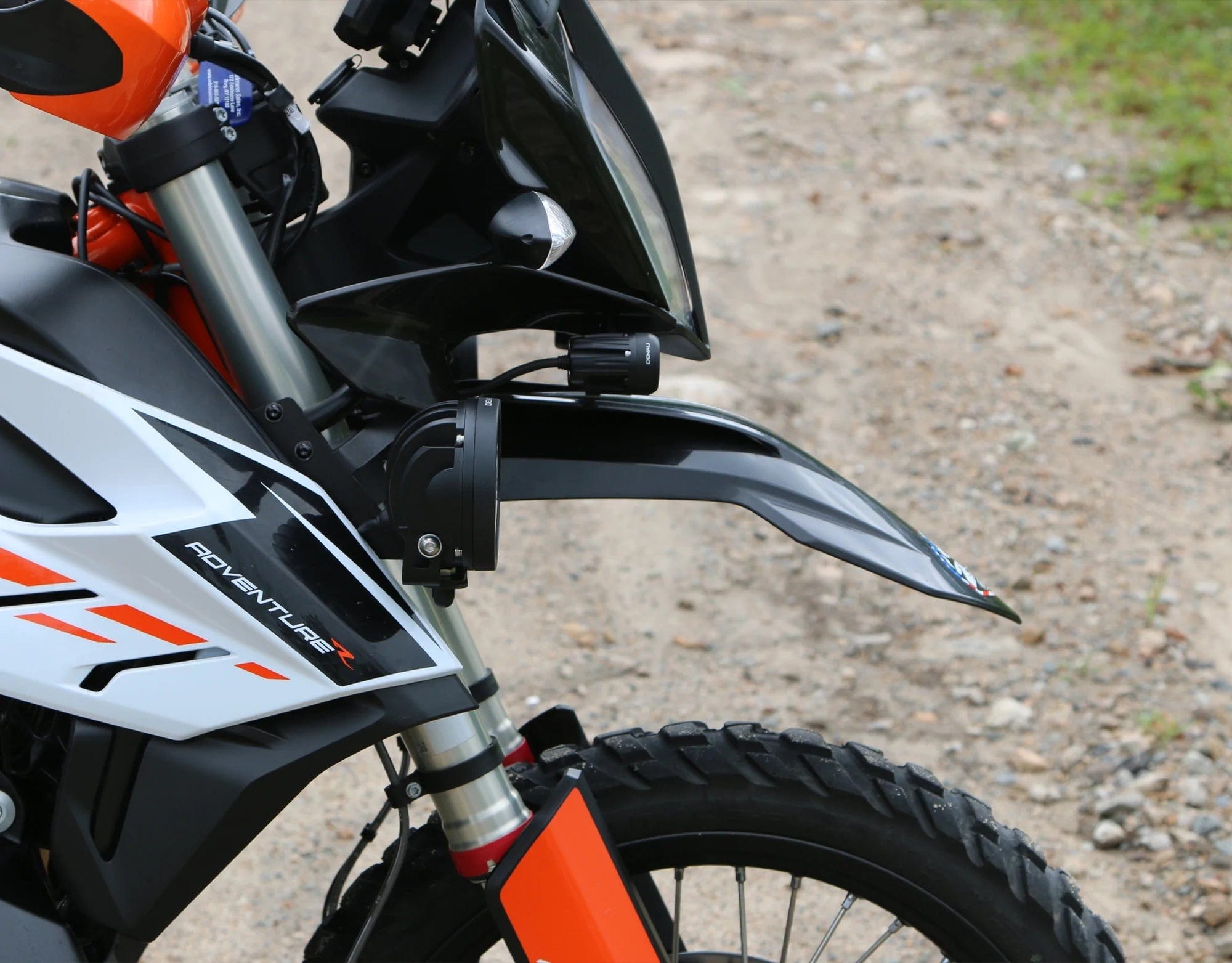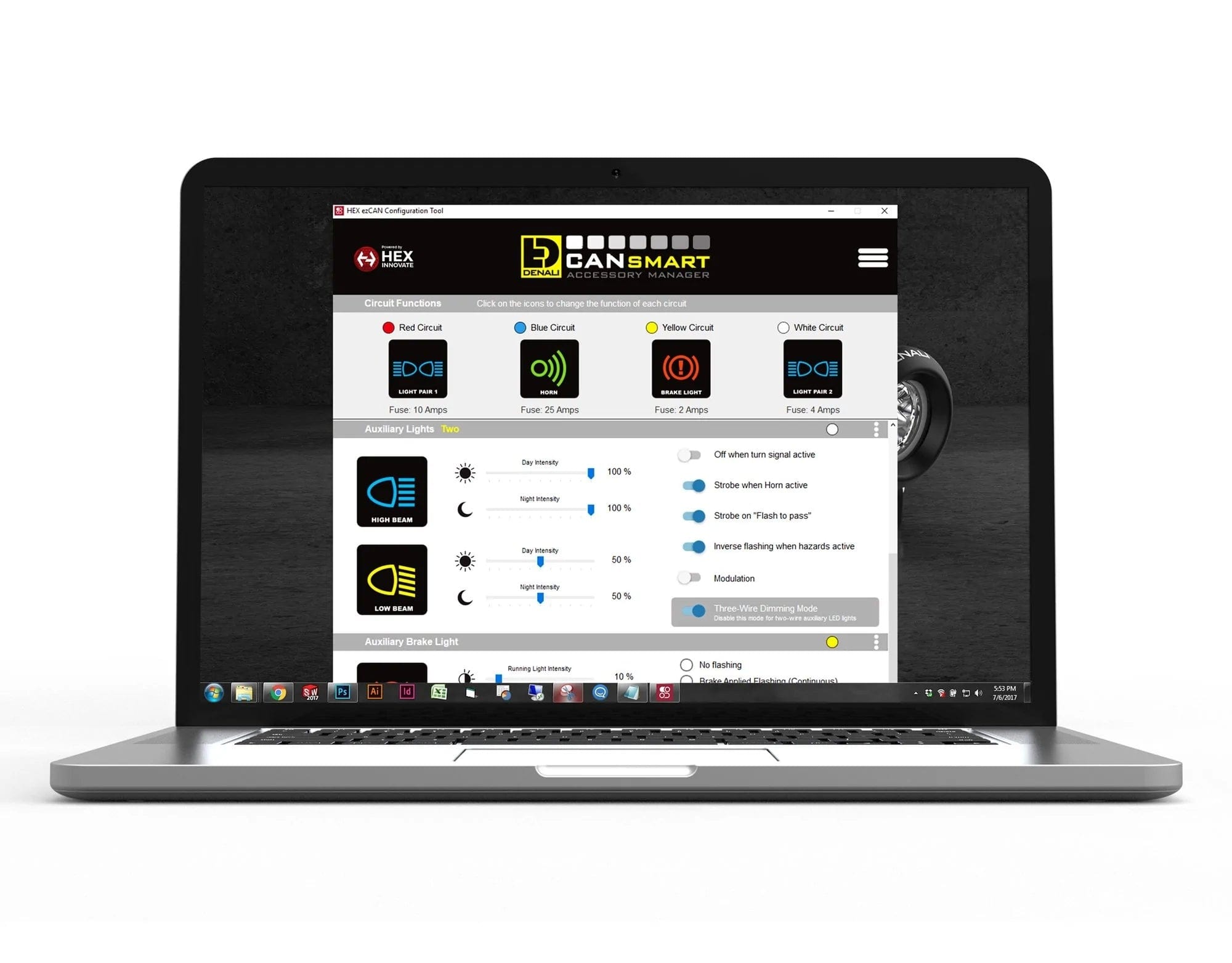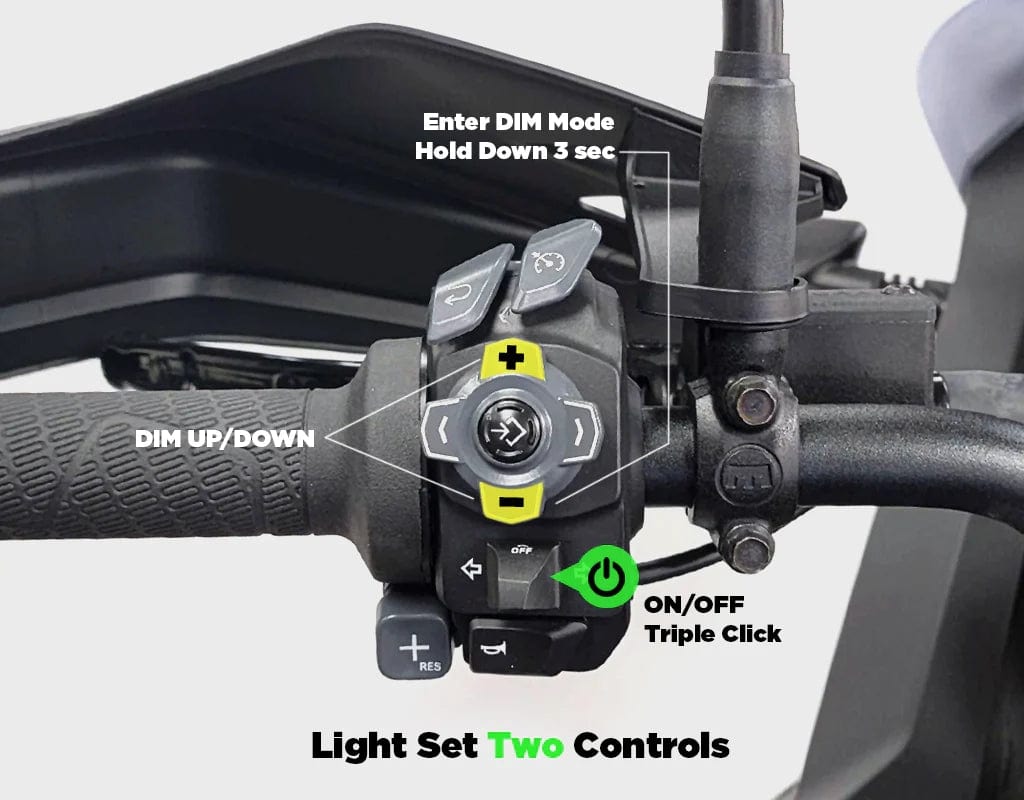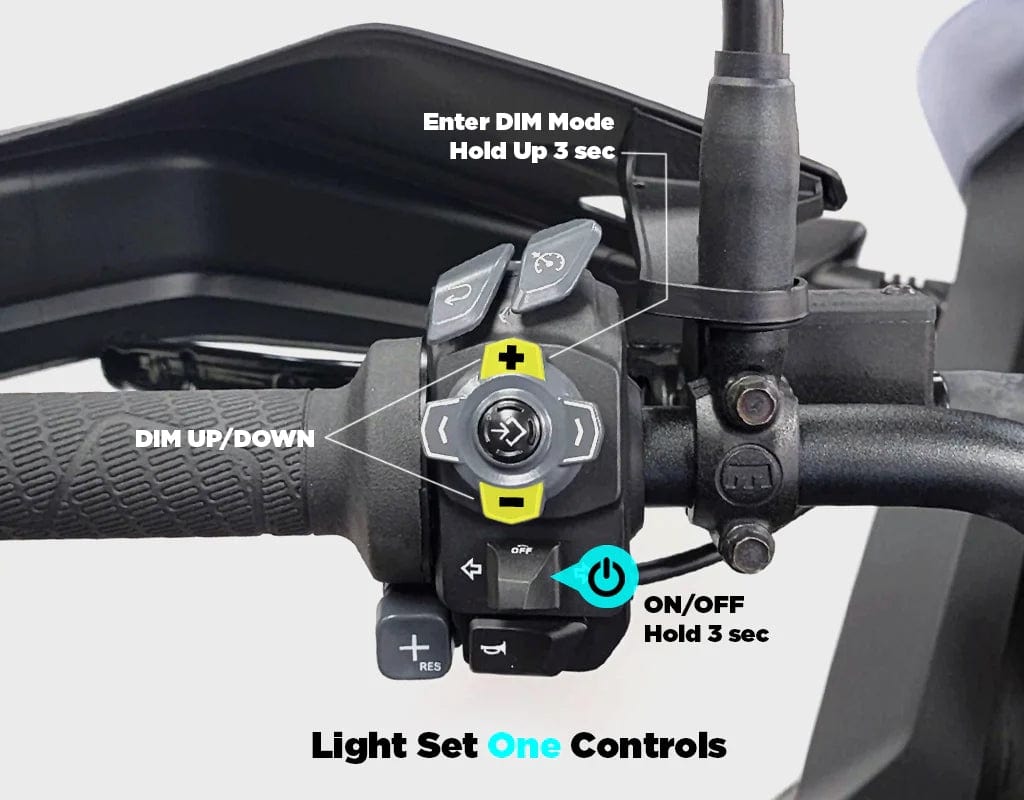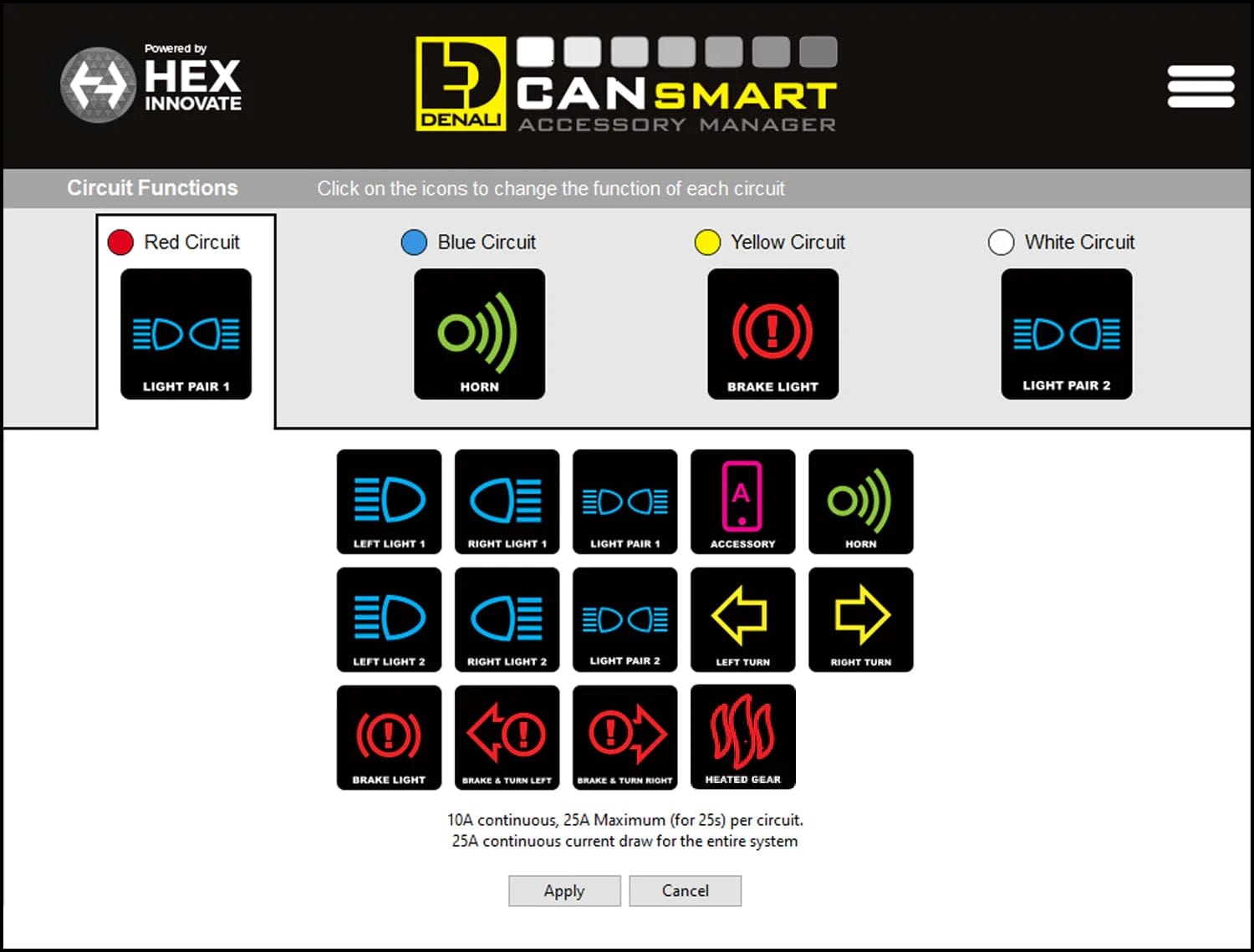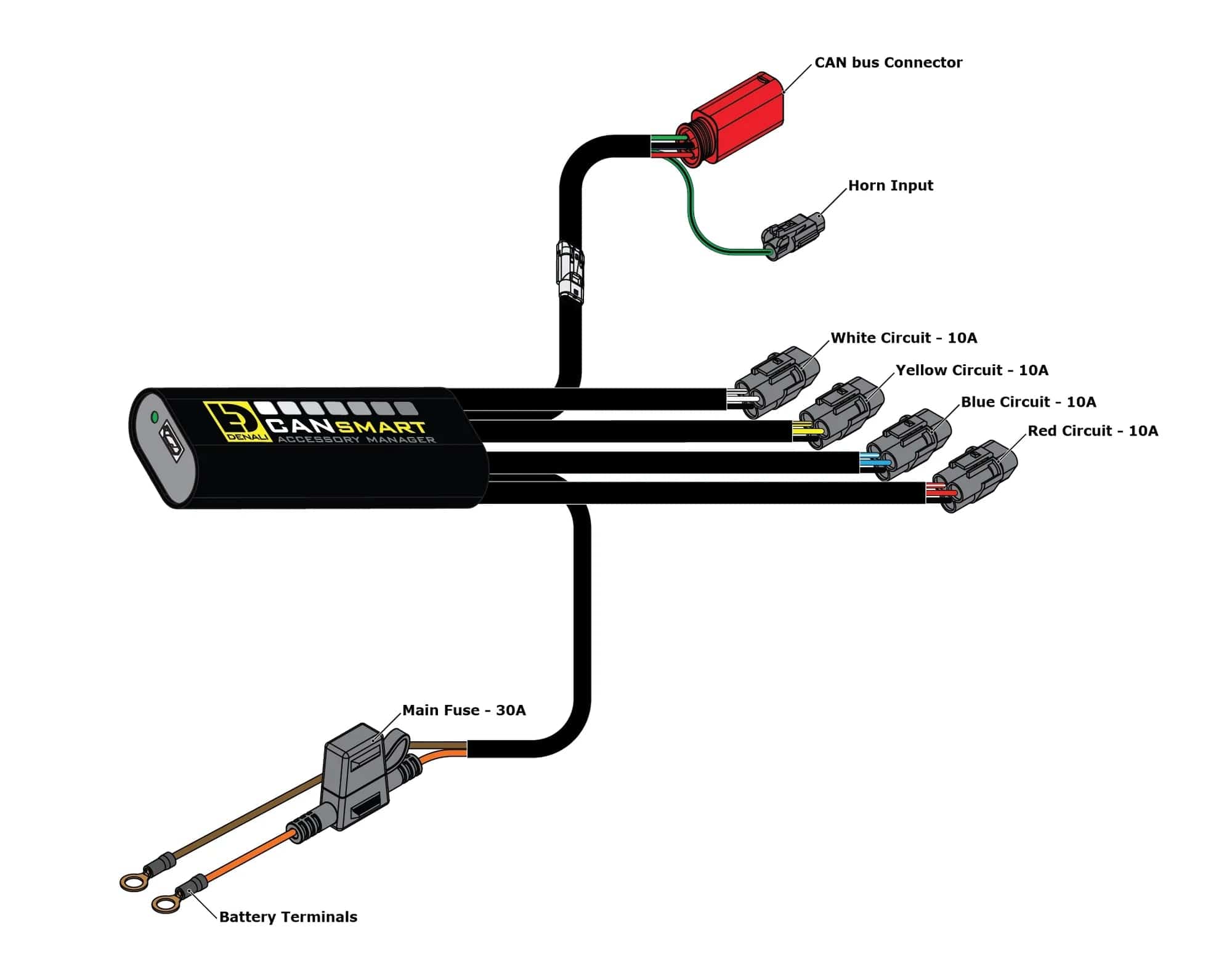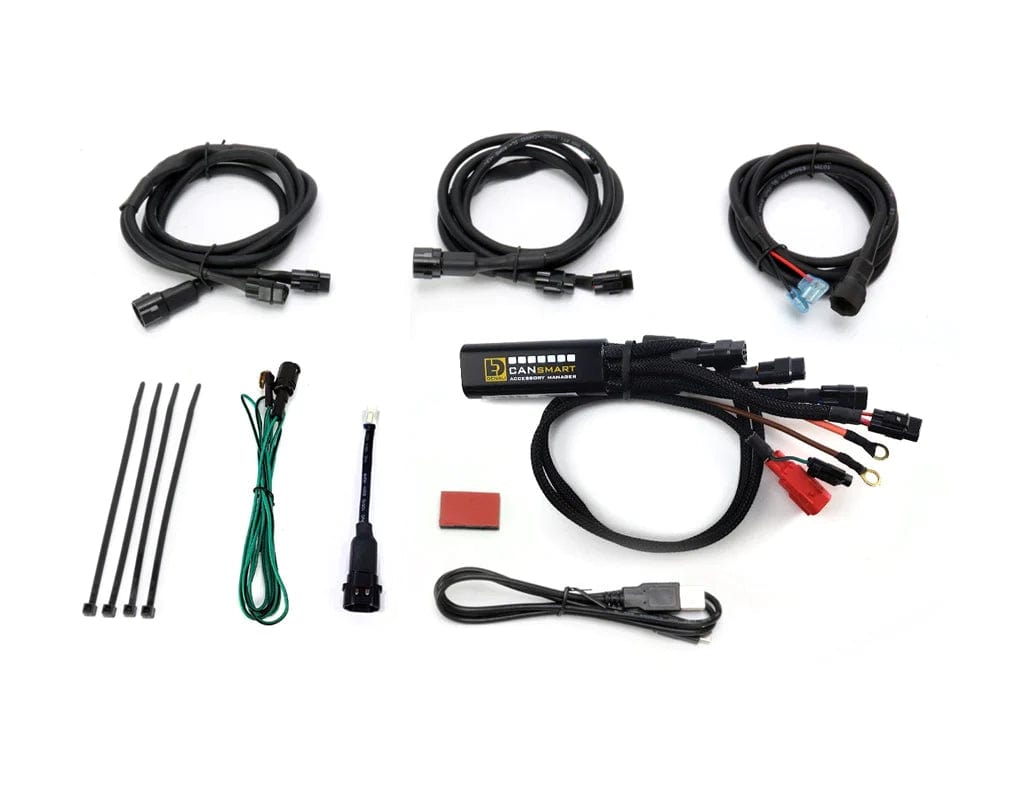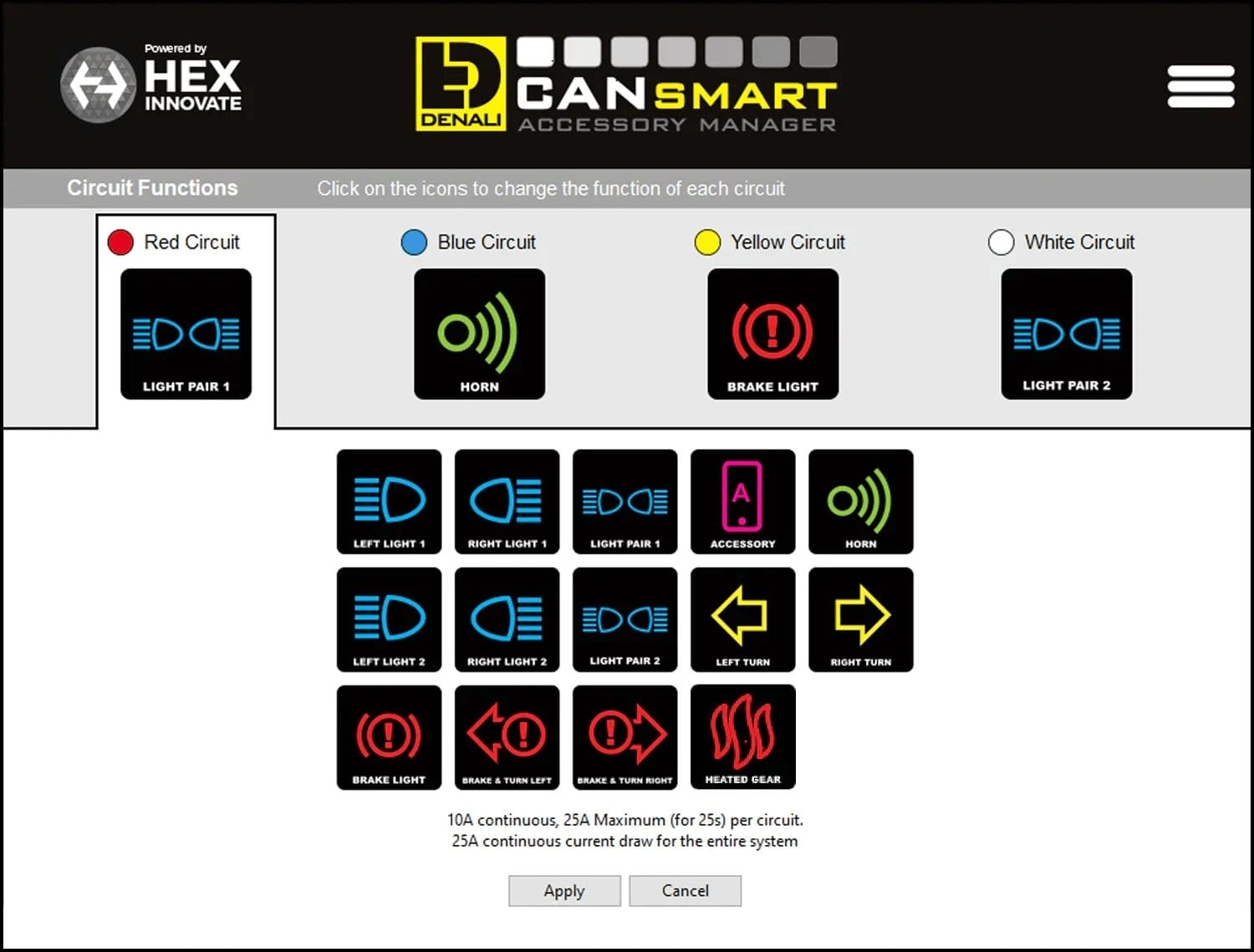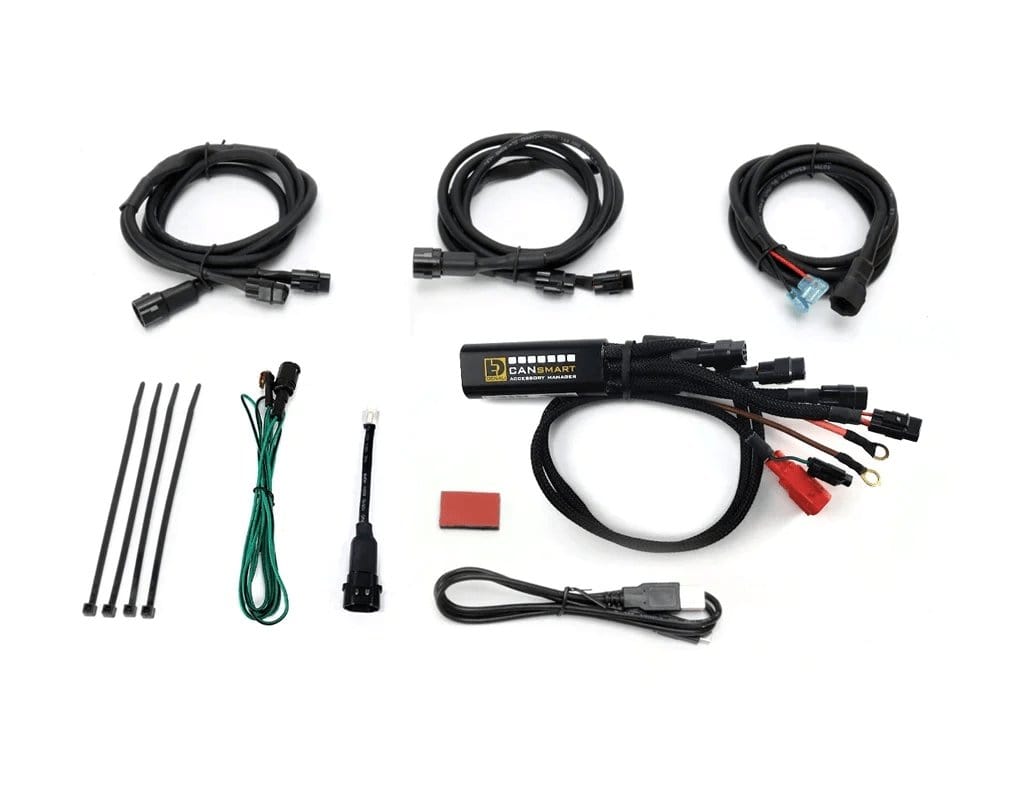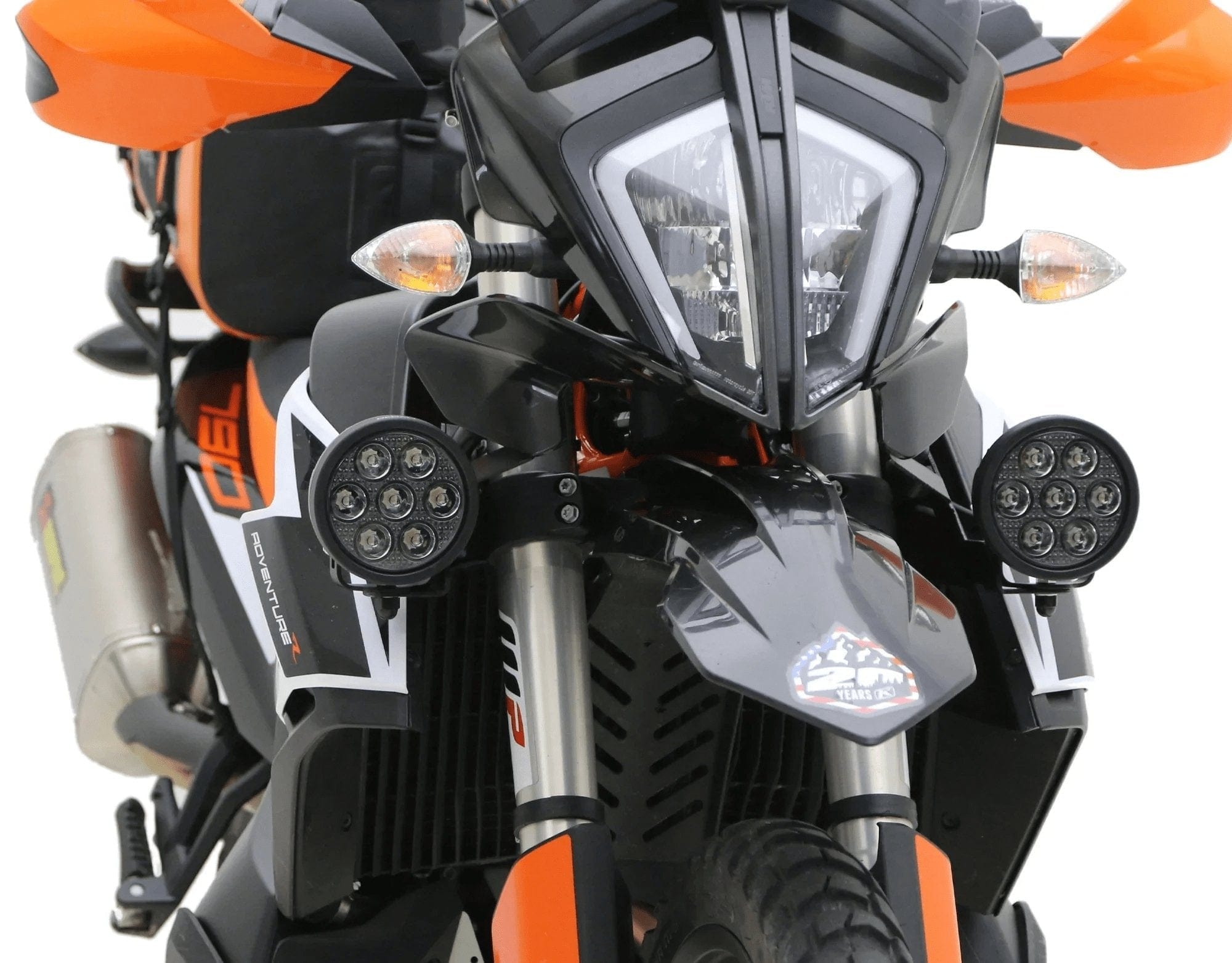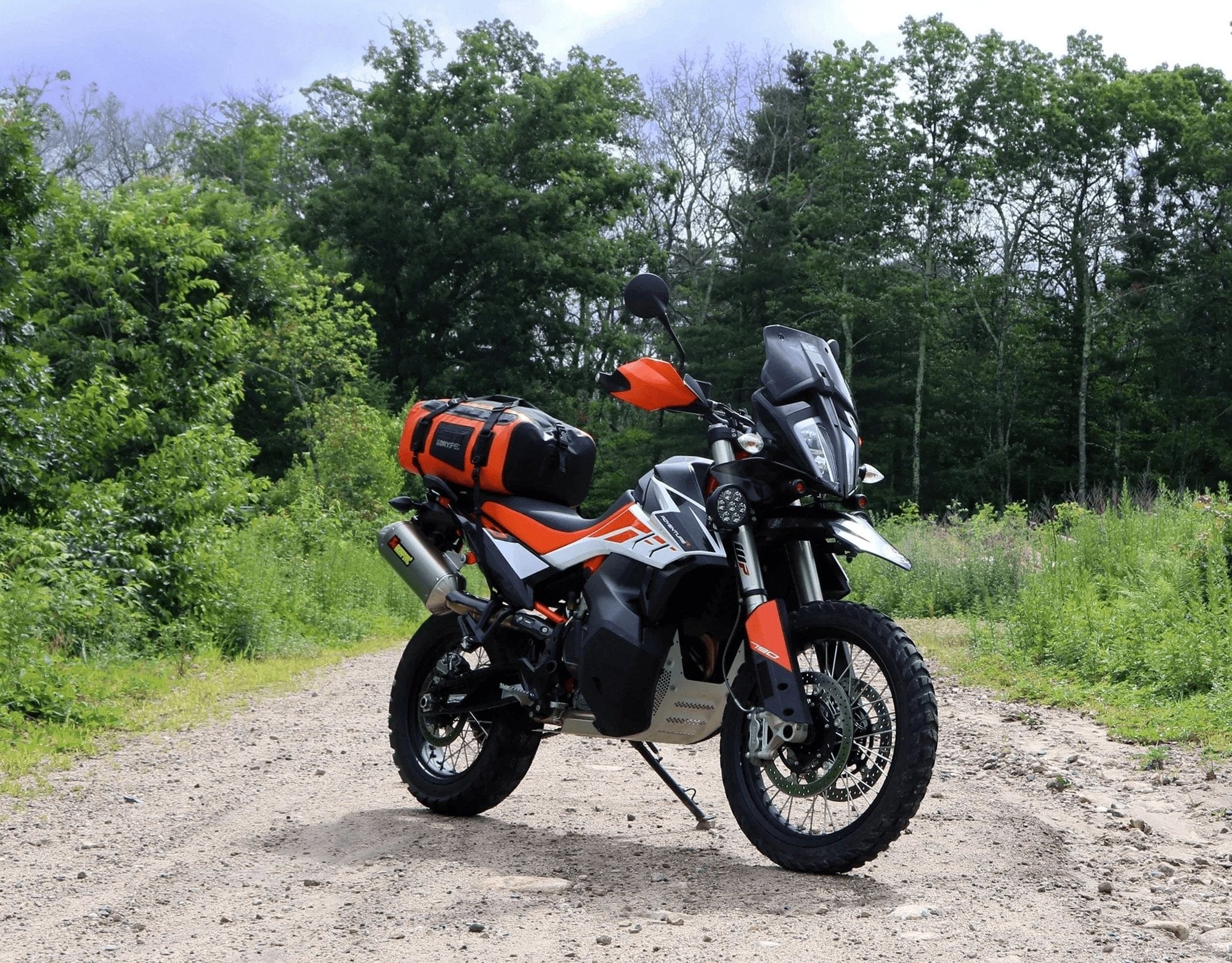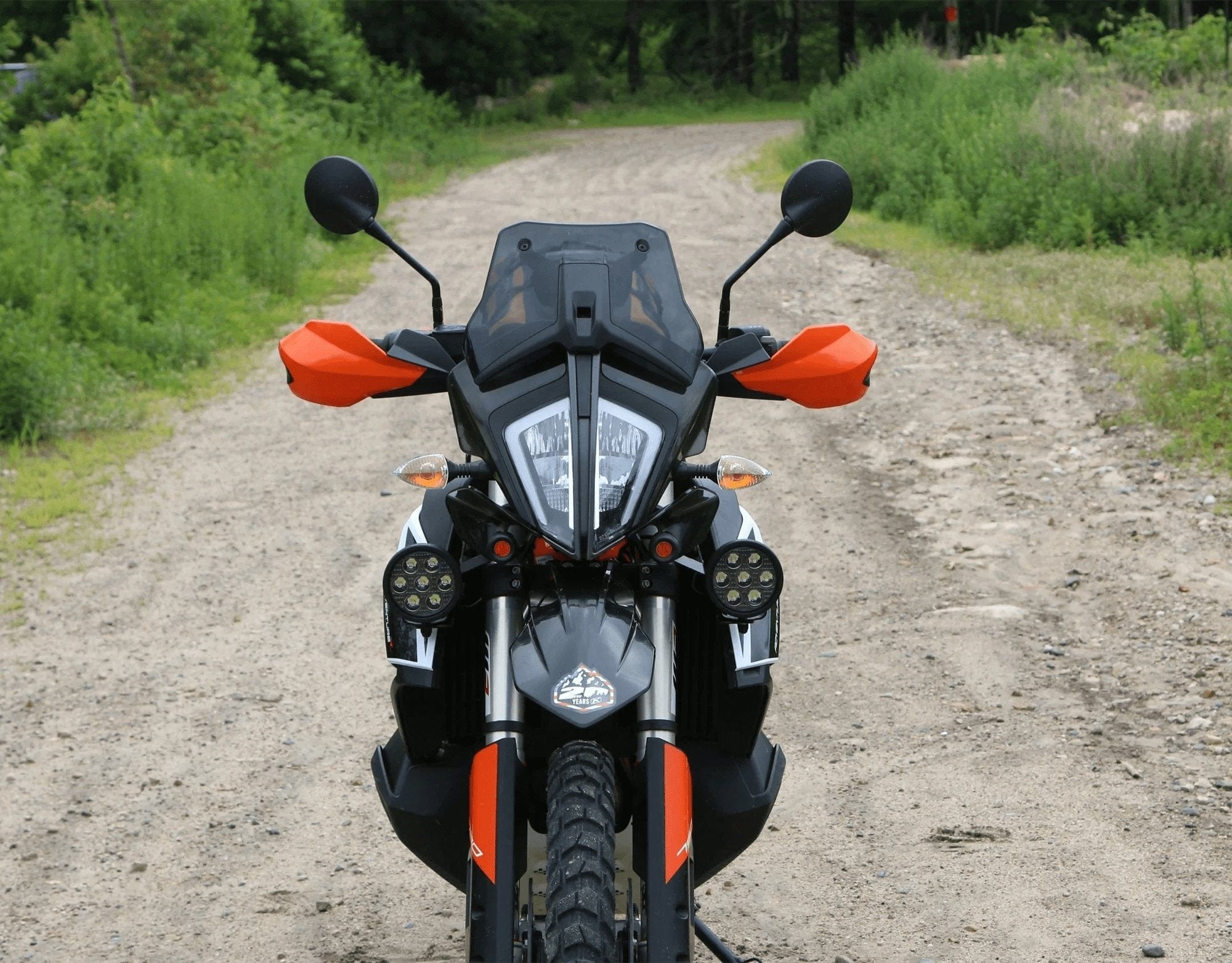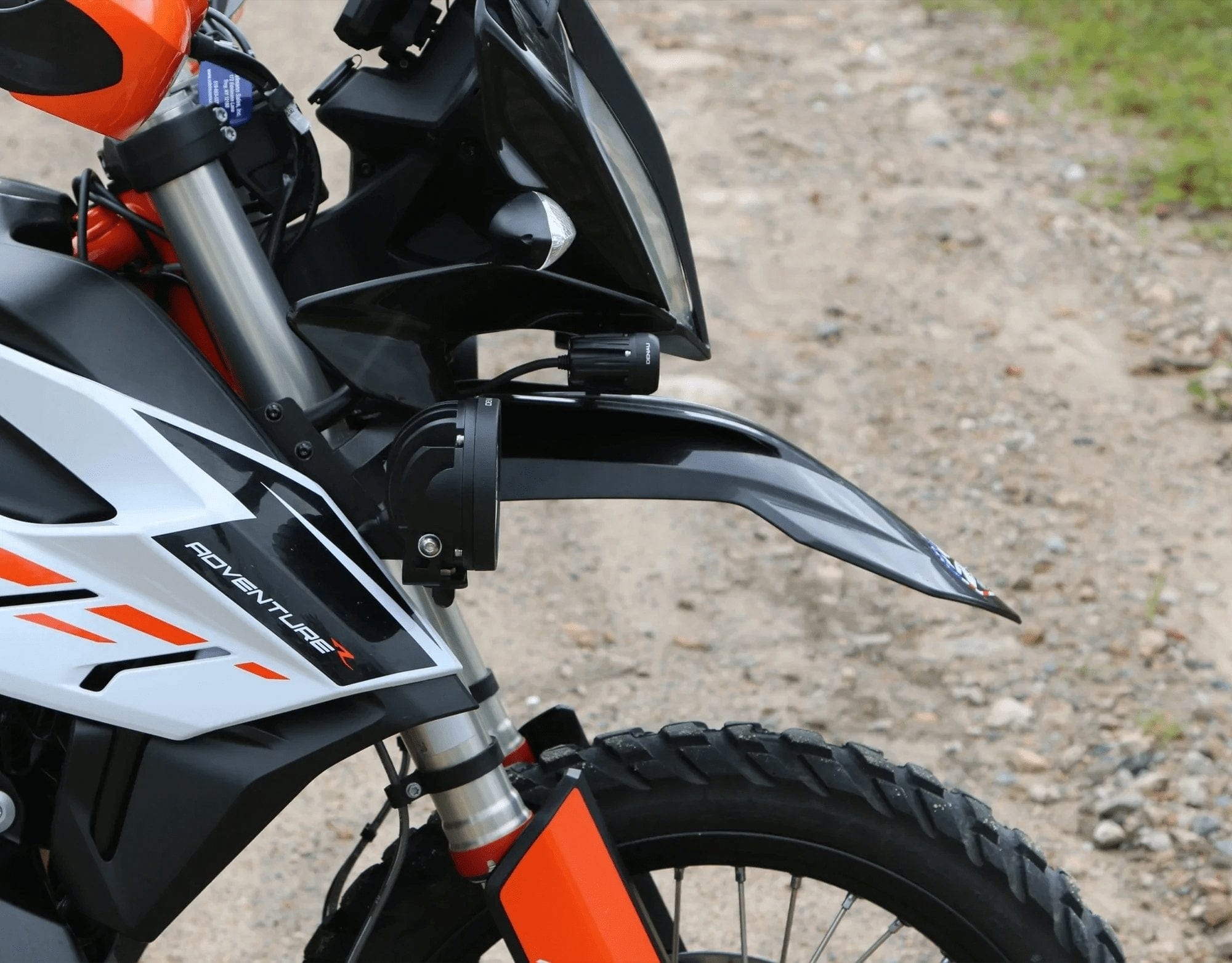 Denali CANsmart™ Controller GEN II - KTM 890 & New 1290 Series
Experience effortless installation of accessories on your KTM motorcycle with the DENALI CANsmart™ Controller GEN II, designed specifically for the KTM 890 & new 1290 series. This smart controller leverages the flexibility and intelligence of your KTM's CAN bus electrical system, making accessory installations drastically simpler and more efficient.
The DENALI CANsmart™ Controller offers plug-n-play installation and integrated control of up to four accessories. This controller enables dozens of customizable settings that can be controlled directly from the KTM's existing handlebar switches, the optional KTM CANsmart Control Switch, or the CANsmart™ Accessory Manager Software.
The CANsmart's four circuits are preprogrammed to independently control two sets of DENALI lights, a SoundBomb horn, and our B6 auxiliary brake light.
Gen II - More Features, More Power, More Versatile The GEN II version provides a full 10 amps of continuous power across all four circuits, and each circuit can be configured to run any accessory type. The entire unit can handle a maximum power draw of 30 amps continuously. The Gen II also introduces two new auxiliary light settings - modulation of your auxiliary lights for added conspicuity, and independent cancellation of left and right side lights when the corresponding turn signal is activated.
Features:
KTM Dongle Functionality: Enables additional features in the ABS control unit and the ECU and remembers settings to prevent the need to reset the ABS and MTC with every restart. Also activates the 80 octane "Bad Fuel" function, reducing engine power for lower fuel quality trips.
High/Low Sync: Programmable settings for auxiliary lights using the factory high beam switch.
ON/OFF and Dim: Independently control two sets of lights ON/OFF and brightness right from your bike's switches or via the software/optional control switch.
Modulate Lights: Enhance your visibility to other motorists with modulating auxiliary lights.
Flash to Pass: Draw attention by pulsing your high beam switch thrice to strobe your auxiliary lights.
Cancel With Turn Signal: Prevent your powerful auxiliary lights from overpowering your signal by cancelling the corresponding light when the turn signal is on.
Inverse Flashing With Hazards: Increases visibility during roadside emergencies by flashing your auxiliary lights inversely to your hazard lights.
Plug & Play Horn Installation: Connect high power aftermarket horns like our SoundBomb™ easily without needing an extra harness or relay.
Deceleration Activated "Smart Brake" Technology: The CANsmart™ reads vehicle speed to activate your auxiliary brake light during deceleration before you even touch the brake.
Circuit Function Selector: Select any accessory to run on any of the four circuits with the Circuit Function Selector in the CANsmart software.
Switched Power Source: Clean switched 12V power that turns on and off with your ignition.
Delay Time Out: Set your accessories to stay powered up to 30 seconds after you turn off your bike.
On Board Power: Ideal for powering your GPS, phone, heated gear, or any other electronic device.
Order your DENALI CANsmart™ Controller GEN II for KTM 890 & new 1290 series today and revolutionize your motorcycle accessory management!
Product Type:
Accessory Management
Regular price

Sale price

$366.00

Unit price

per
Shipping Info
COMPETITVE SHIPPING RATES GLOBALLY
Covid-19 Shipping Delay Notice
What's In The Box?

Suitable For: 

Shipping

Denali Warranty

Reviews
CANsmart™ Controller
(x2) 5.5ft Light Extension Cables
5ft SoundBomb Horn Extension Cable
B6 Brake Light Wiring Adapter
Zip-ties
Adhesive Hook-and-Loop Fastener
Micro USB Programming Cable
All KTM 890 Models (2020-Current)
All KTM 1290s (2021-Current)

*KTM 890 Limitations
Due to variances with the KTM 890's factory wiring harness, the following limitations apply:


Auxiliary Light One & Two Dimming and ON/OFF functions are not available from bikes factory controls (All dimming and light settings need to be configured in the CANsmart Accessory Manager Software)
Turn signal circuit function not available.
Cancel auxiliary lights with turn signal feature not available.
Flash auxiliary lights as turn signal feature not available.
The auxiliary brake light activates with the front brake lever only
KTM Dongle feature not available

If dimming your auxiliary lighting on-the-fly is important to you we recommend using our DialDim Lighting Controler which enables on-the-fly dimming and control of up to two sets of aux lights. Keep in mind that both products can be installed on your 890 together, so a logical setup would be two sets of aux lights on a DialDim while your horn, brake lights, DRLs, or other accessories can be powered from the CANsmart.
Australian Shipping
Looking for affordable shipping rates for your orders? Look no further! We've got you covered with our flat rate shipping fees that will make your shopping experience a breeze.
With our shipping fees, you can enjoy peace of mind knowing that all orders are charged at a fixed rate. For orders under $200, we offer a competitive rate of $20.00. And for orders over $200, you'll enjoy an even lower rate of just $12.50 (excluding Audio products).
Speaking of Audio products, we understand how precious they are to you. That's why we've got an Australia wide special flat rate shipping fee of $25.00 for all Audio products.
At our store, we believe in providing you with the best possible service. That's why we use a variety of reliable and efficient services to ensure your order gets to you as quickly as possible.
International Shipping
International shipping is available for all of our products and is automatically calculated in our shopping cart during checkout. All international shipping is done with a tracking number so you can watch its progress to you. Please be aware that you may be charged Import Duty or Import Taxes from your Customs Office, HogLights is not responsible for any import duties or taxes payable.
Our General Shipping Guidelines
In stock - within 7 days
Out of stock - approx 14 days
Special order - approx 21 days
For our shipping policy, please click here
Denali's products are designed and tested to withstand the most extreme conditions on earth. And if you're like us, you're going to put these products to the test!
Denali's warranty is limited to repair or replacement of the purchased item at our discretion. The warranty does not cover damage caused by normal wear, abrasion, misuse, improper installation, accidents, alteration, disassembly of electronics, or damage to original parts of the vehicle related to crashes, improper installation, or improper use. Coverage is limited to the original purchaser of the item from Denali Electronics and does not extend to used items purchased through 3rd parties (Craigslist, eBay, etc.). Warranties are limited to those expressly provided above. All other warranties, including implied warranties of merchantability and fitness for a particular purpose, are specifically excluded. Shipping charges to Denali Electronics are the responsibility of the customer.
To process a warranty claim our sales representative will either send you a replacement part or request the product to be sent back for inspection. Once the product is inspected, our warranty team will either repair the product to working condition, or provide a new product replacement if the product can not be repaired. Denali Electronics will pay to ship the repaired or replaced item back to customers.